IVDD vs. IVDR Gap Analysis and Checklist for 2017/746
May 4, 2019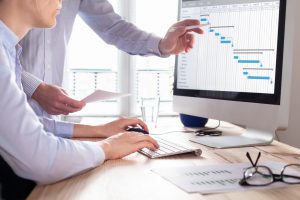 If you market an IVD in Europe and are just starting to think about doing a thorough gap analysis for the In Vitro Diagnostic Regulation (IVDR), it's definitely not too early to start. An IVDD vs. IVDR gap analysis helps determine where you are now and where you need to be. While the EU IVDR entered into force in May 2017, the final date of application isn't until May 2022 (2024 for low risk IVDs). This is a longer transition period than for the EU MDR because the preparation phase will take longer for most IVD manufacturers – the changes in the IVDR are more significant and impactful than those in the EU MDR.
Where to Begin? Areas to Focus on in Your IVDR Gap Assessment
Here are some areas that will greatly impact many IVD companies and demand your attention. For easy reference, download this fully linked IVDR Table of Contents, which also includes the full text of the IVDR.
IVD classification – Start here. There are new classification groupings (A, B, C, D) and rules that significantly affect many IVDs, notably software, single-use IVDs, companion diagnostics, and genetic tests. (See Article 47 & Annex VIII.)
1 – More data
You will need to carefully evaluate your existing clinical and performance data, as this will be required for Class B, C, and D in vitro diagnostic devices (and Class A as applicable). The IVDR will require you to compile a performance evaluation report (PER – see Article 56) for each device, including a scientific validity report, analytical performance report, and clinical performance report. (See Chapter VI & Annexes II, XIII, XIV.)
2 – Postmarket surveillance
There will be a lot more focus on vigilance by regulators. You will need to show that you have a continuous process improvement cycle in place that links to your risk management processes. This includes implementation of a postmarket performance follow-up (PMPF) plan. (See Chapter VII & Annex III.)
3 – Risk management
It is no longer acceptable to simply say that you comply with EN ISO 14971. The IVDR compels manufacturers to demonstrate that they are gathering feedback continuously and proactively. Is your risk management process adequate?
4 – Unique device identification
The IVDR will place far more emphasis on supply chain traceability, and thus you will need to implement UDI for your IVDs. If you are already doing this as part of US FDA compliance, you know the process, but the format and mechanics will be different.
5 – Quality management system
If you do not already have EN ISO 13485:2016 certification, there's a good chance you will need it unless you only make Class A IVD devices under the IVDR. If you currently comply with US FDA QSR (21 CFR Part 820) your transition will be easier, but don't delay – Notified Bodies will be in high demand, especially in 2021-2022.
Currently only 10-20% of IVDs are subject to Notified Body scrutiny under the IVDD. That number will jump to 80-90% under the IVDR and swamp [why] the limited pool of Notified Bodies authorized to do IVD product reviews.
Creating an EU IVDR Gap Checklist
With so many compliance tasks to complete, it's a good idea to create a checklist that will allow you to track and prioritize them all. When you think about the time to complete these various tasks, remember that you will have competing priorities! Don't fixate on the May 26, 2022 IVDR implementation date. Instead, use the anticipated date of your Notified Body audit and work backwards from there. Be conservative! If you think you are going to schedule your Notified Body audit for April 2022 (right before the implementation date), so do thousands of other IVD companies. Play it safe and set a final completion date of Q3/Q4 2021 for most of your IVDR requirement tasks…at the latest. Also, if you only make low risk IVDs and have heard that the deadline was extended until May 2024, remember that you will still be expected to comply with the QMS requirements of the IVDR before May 2022! So while you have some extra time to get your technical documentation house in order, get busy on implementing ISO 13485:2016 if applicable.
Speaking of priorities, if you are not already working with a Notified Body, put that on your to-do list this week. Seriously. Come 2021, there will be an endless queue of panic-stricken IVD manufacturers begging for the attention of a handful of Notified Bodies eager profit from the mayhem. Also, keep in mind that not every Notified Body will be designated to handle the full scope of the IVDR. Thus, if you make a range of IVDs, it is possible you may need more than one Notified Body. Be sure to ask about scope when you call Notified Bodies.
Start Now: Strategic Planning
Which products in your portfolio are sold in the EU? What is the return on investment?
When do the IVDD-based EC certificates of conformity expire?
What is the state of your technical documentation?
What conformity assessment route (Annex IX, X, XI) will you pursue?
Which devices will have a classification change?
Are you EN ISO 13485:2016 certified?
Has your Notified Body applied for or been designated to perform audits for your type(s) of devices?
What is your role as "manufacturer"? Do you market any private-label products made by another company?
What resourcing and expertise do you have? Do you need help in training or gap assessment?
18+ Months Before Notified Body IVDR Audit
Create quality plans for the transition based on your device families.
Perform a gap analysis between IVDR requirements and your QMS.
Organize your product SKUs into families to plan your technical documentation strategy.
Create teams for gap fulfillment and work toward milestones.
12+ Months Before Notified Body IVDR Audit
Get certified to EN ISO 13485:2016 (if you aren't already).
Gather data needed for performance evaluation reports (PERs).
Keep up to date with current standards and implementing acts.
Conduct awareness training on the IVDR (organization-wide).
6-12 Months Before Notified Body IVDR Audit
Assemble PERs.
Update risk management procedures.
Implement UDI (Class D deadline is 2023).
Review all labeling.
Update Economic Operator agreements.
Find and appoint a PRRC.
Perform employee readiness training.
1-6 Months Before Notified Body IVDR Audit
Coach employees for audit readiness.
Perform an internal audit to IVDR requirements.
Assess the completeness of gap closure.
Open CAPAs for remaining gaps.
Prepare for input of data into Eudamed
After IVDR Implementation
Conduct postmarket clinical follow-up.
Start implementing UDI (Class A, B, C).
Continue postmarket surveillance.
Keep up to date with "state of the art."
Prepare for surveillance audits.
Conduct ongoing employee training.
Monitor the Release of Implementing Acts
At the time of this writing, few guidance documents have yet been published that clarify important sections of 2017/746. For example, the IVDR mandates the compilation of performance evaluation reports (PERs). These are very similar to the clinical evaluation reports (CERs) mandated for medical devices. These implementing acts and guidance documents should be released with plenty of advance notice, but it's important that you track these here and bookmark this section of the European Commission website.
After You Conduct Your IVDD vs. IVDR Gap Analysis
This would be an ideal time to sit down with senior management and get them to buy in. Armed with your analysis of all the work that needs to be done, you can make your case for more staff, more consultants, and more internal cooperation that will surely be required to make your IVDD-to-IVDR transition a success. Evaluate current staff capabilities and future needs. Your ideal team should be cross-functional and could include colleagues from Operations, Sales, IT, and Development. Also, given the intense focus of compliance between now and 2022, consider outsourcing project management, gap analysis, and EN ISO 13485:2016 implementation as needed.
Of course, this will also be the ideal time to do a rational evaluation of the merits of all products in your portfolio. Given the increased costs of compliance associated with the IVDR, you may decide that some IVDs with slim margins or meager sales might be pulled from the EU market in early 2022. You may have some cushion. Certificates issued under the IVDD expire no later than May 27, 2024. Thus, if you have some products that have CE Marking certificates issued under the IVDD that will expire between May 2022 and May 2024, you can choose whether to retire those products upon expiration or seek IVDR certification. Sorry, the grace period does not give you a free pass on having IVDR-compliant technical documentation in place. You will still need to do that before the May 2022 deadline!
The Early Bird Gets the Worm
Given the anticipated shortages of Notified Body resources – and the additional staff and financial burdens you will surely encounter – smart RA/QA managers are getting a jump on the IVDR by doing their IVDR gap analysis now. If you're starting to feel a migraine setting in, buy a Costco-sized bottle of ibuprofen because there are no grandfathering provisions.
Want to Learn More?
We have much more information on the IVDR to share. Read our super-informative four-part primer on the IVDR changes and what you can do to prepare. You'll also want to consider our increasingly popular European IVDR training. This class will walk you through all the changes in the IVDR compared to the IVDD and leave you feeling confident about what you need to do and when. Of course, our consulting team is also fully prepared to assist you with IVDR gap assessments and preparation.