European IVDR PDF + Table of Contents for 2017/746
January 17, 2019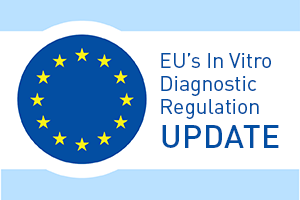 Weighing in at 157 pages and 85,000 words, the new European IVD Regulation requires serious concentration for regulatory professionals.
We've made this daunting task a little easier by adding a fully linked, easy-to-navigate Table of Contents to the IVDR. Just download the IVDR PDF and save it to your desktop for quick reference.

Inside the EU IVDR PDF (2017/746), you'll find quick links to every Chapter, Article and Annex. If you are new to IVD regulation in Europe (or even if you are not), you may want to consider our three-day immersive training class on the IVDR changes.
Contents of the IVDR (2017/746)
Chapter I


(Articles 1-4)
Introductory provisions

Chapter II


(Articles 5-21)
Making available on the market, and putting into service of devices, obligations of economic operators, CE Marking, free movement

Chapter III


(Articles 22-30)
Identification and traceability of devices, registration of devices and economic operators, summary of safety and clinical performance, European database on medical devices

Chapter IV


(Articles 31-46)
Notified bodies

Chapter V


(Articles 47-55)
Classification and conformity assessment

Chapter VI


(Articles 56-77)
Clinical evidence, performance evaluation and performance studies

Chapter VII


(Articles 78-95)
Post-market surveillance, vigilance and market surveillance

Chapter VIII


(Articles 96-101)
Cooperation between member states, medical device coordination group, EU reference laboratories and device registers

Chapter IX


(Articles 102-106)
Confidentiality, data protection, funding and penalties

Chapter X


(Articles 107-113)
Final provisions
Annex I
General safety and performance requirements
Annex II
Technical documentation
Annex III
Technical documentation on post-market surveillance
Annex IV
EC declaration of conformity
Annex V
CE Marking of conformity
Annex VI
Information to be submitted upon the registration of devices and economic operators in accordance with articles 26(3) and 28, core data elements to be included in the UDI database together with UDI-DI in accordance with Articles 25 and 26 of the UDI system.
Annex VII
Requirements to be met by Notified Bodies
Annex VIII
Classification rules
Annex IX
Conformity assessment, based on a quality management system and on assessment of technical documentation
Annex X
Conformity assessment based on type examination
Annex XI
Conformity assessment based on production quality assurance
Annex XII
Certificates issued by a notified body
Annex XIII
Performance evaluation, performance studies and post-market performance follow-up
Annex XIV
Interventional clinical studies and certain other performance studies
Annex XV
Correlation table (with the IVDD)
Need help understanding the EU IVDR changes and creating a transition strategy?
Our IVDR implementation class will give you the foundational knowledge to understand what's required and how to tackle it. If you're an auditor, consider this class instead. The Oriel STAT A MATRIX team of IVD specialists is also ready to help you with a variety of issues related to the new In Vitro Diagnostic Regulation. This includes IVD classification, gap assessments, IVDD to IVDR transition strategy, technical documentation, clinical data, risk management or ISO 13485 implementation. 
Please contact us to let us know how we can help you!