EU IVDR Changes: An Overview of Regulatory Requirements in 2017/746
February 21, 2019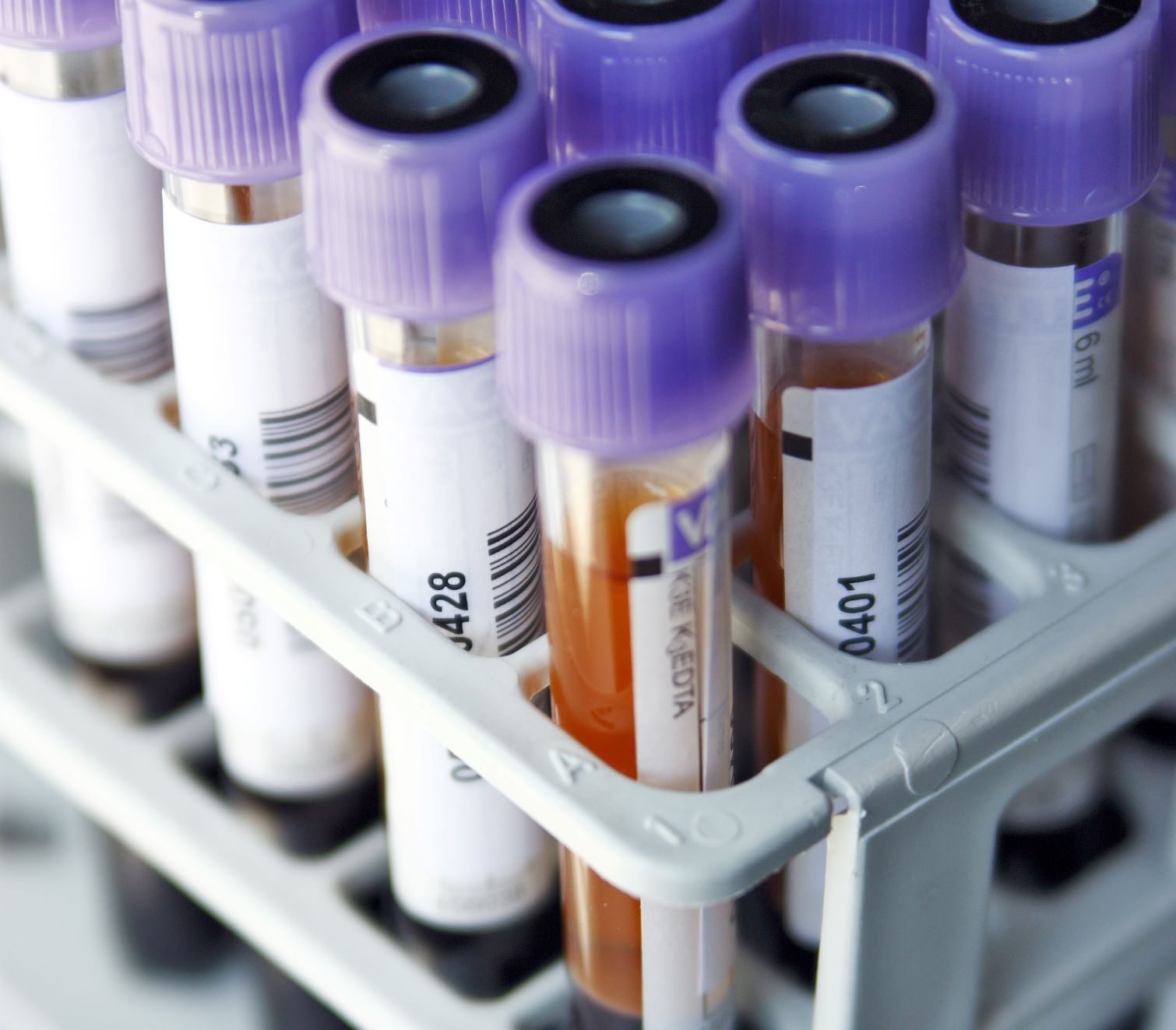 Since the introduction of the In Vitro Diagnostic Directive (IVDD 98/79/EC) nearly 20 years ago, the majority of IVD manufacturers selling in Europe have had it pretty easy when it comes to EU compliance. That's because under IVDD 98/79/EC, about 80-90% of finished devices are not subject to Notified Body oversight.
Starting in May 2022, this laissez faire era will come to an abrupt end.
This is a four-part series on the EU IVDR. Download all four parts as a single PDF.
European regulators have long recognized the shortcomings of the existing IVDD in protecting patients and spent years crafting an updated and greatly expanded set of regulations known as the In Vitro Diagnostic Regulation (2017/746), or simply the IVDR. To underscore the importance of stricter oversight, the requirements governing IVDs have been elevated to a regulation from a directive, which means every EU member country must apply the same regulation in their national law, with the same implementation date.
Get Ready! The IVDR Is Far More Comprehensive Than the IVDD It Will Replace
The IVDR is not simply a fresh coat of paint for the IVDD. EU regulators have torn down the existing building and reconstructed it using new blueprints. The IVDR greatly increases the number of IVD devices subject to rigorous oversight and expands the scope of compliance. It is based on the GHTF classification system and brings European regulations into closer harmonization with global classification for in vitro diagnostic devices that has been around for many years. To get a sense of the magnitude of the changes, simply look at the table below. The IVDR is roughly 4x longer than the IVDD it will replace!

Throughout this article series we will reference numerous IVDR Annexes and Chapters. Navigating the IVDR can be quite a challenge. The crafters of the IVDR – having already succeeded at giving heart palpitations to thousands of IVD RA/QA professionals – inflicted a final wound by leaving out a Table of Contents to navigate their 157-page tome. Fortunately, we have saved you from endless frustration and created a Table of Contents for you! You can download a fully linked IVDR Table of Contents, which includes the original IVDR text.
The Most Important Changes in the EU IVD Regulation That Will Impact Manufacturers
It is obviously impossible to cover every change and requirement found in the IVDR, but here's a high-level summary of the most important updates. We'll talk about these in more detail later.
The IVDR will require Notified Body intervention and review for 80-90% of IVDs sold in Europe, compared to 10-20% that were reviewed under the IVDD.
There are no grandfathering provisions. Moderate and high-risk IVDs must be certified to meet the IVDR by May 2022. Low risk IVDs have until May 2024 but still must meet IVDR QMS requirements.
IVDR uses a risk-based rules classification scheme: Classes A, B, C, and D.  (Chapter V & Annex VIII).
Software as part of IVD instruments, SaMD (Software as a Medical Device), and apps are now included in the definition of IVDs and are regulated.
There is new oversight of single-use IVDs, companion diagnostics (CDx), and genetic tests.
There are more requirements for clinical evidence and performance studies (Chapter VI & Annexes II, XIII, XIV).
The vigilance and postmarket surveillance requirements are far more stringent (Chapter VII & Annex III).
Focus on labeling identification and UDI product traceability (2023 for Class D; 2025 for Classes C and B; 2027 for Class A). See Articles 24-27.
Manufacturers must appoint an EU-based Authorized Representative (if physically located outside the EU), an Importer and a Person Responsible for Regulatory Compliance (PRRC).
Class B, C, and D manufacturers will be required to have a quality management system and technical documentation review and be subject to unannounced Notified Body audits (Annexes II, III, IX, X, XI).
The IVDR Expands the Definition of an IVD in Europe
Not long ago, the definition of an IVD in Europe was pretty clear-cut. Today, not so much. As new diagnostic technologies have developed, the traditional concept of in vitro diagnostics has expanded. Health data that was previously delivered only through clinicians is now available directly to patients on their smartphones or via email. Advances in genetic testing have made predictive health data available to the masses. That same technology can be used to help customize treatment plans for patients. Such advances offer obvious benefits for patient care, but they also bring the risks associated with false-positives and misinterpretation of data. Given these ongoing advances, the IVDR expands the previous definition of an in vitro diagnostic medical device, as seen in the highlighted text below.
The New EU IVDR Classification Scheme: As Simple as A, B, C, … and D
The current IVD directive uses a list-based classification scheme that is very limited in application. In fact, that list in Annex II of the IVDD only takes up half a page, with a short list of what is reviewed by Notified Bodies. The IVDR throws those lists out the regulatory window and applies a new risk-based classification system that's based heavily on a GHTF IVD classification guidance published in 2008.
Article 47 of the IVDR briefly discusses classification, but Annex VIII contains the seven rules you will use to classify your device. The new IVDR separates devices into four classes: A, B, C, and D. Class A is for low-risk products and Class D, as you smartly surmise, is reserved for high-risk products.
Under the new scheme, the vast majority of in vitro diagnostics that will require Notified Body intervention will fall under Classes B and C. Class D IVDs are quite limited in number, as is the case with Class III devices under the MDR. However, it should be noted that sterile IVDs in Class A will also require Notified Body assessment, although only pertaining to the sterilization aspects. The classification rules also bring companion diagnostics (CDx), genetic testing, and stand-alone software into the gravitational orbit of the IVDR. If the device has multiple intended uses – and those uses place the device into different classes – the highest applicable classification applies.
Structure of the In Vitro Diagnostic Regulation (2017/746)

Download the complete IVDR plus a linked Table of Contents.

Chapter I
Introductory provisions
Chapter II
Making available on the market, and putting into service of devices, obligations of economic operators, CE Marking, free movement
Chapter III
Identification and traceability of devices, registration of devices and economic operators, summary of safety and clinical performance, European database on medical devices
Chapter IV
Notified bodies
Chapter V
Classification and conformity assessment
Chapter VI
Clinical evidence, performance evaluation and performance studies
Chapter VII
Postmarket surveillance, vigilance and market surveillance
Chapter VIII
Cooperation between member states, medical device coordination group, EU reference laboratories and device registers
Chapter IX
Confidentiality, data protection, funding and penalties
Chapter X
Final provisions
Annex I
General safety and performance requirements
Annex II
Technical documentation
Annex III
Technical documentation on postmarket surveillance
Annex IV
EC declaration of conformity
Annex V
CE Marking of conformity
Annex VI
Information to be submitted upon the registration of devices and economic operators in accordance with articles 26(3) and 28, core data elements to be included in the UDI database together with UDI-DI in accordance with articles 25 and 26 of the UDI system.
Annex VII
Requirements to be met by Notified Bodies
Annex VIII
Classification rules
Annex IX
Conformity assessment, based on a quality management system and on assessment of technical documentation
Annex X
Conformity assessment based on type examination
Annex XI
Conformity assessment based on production quality assurance
Annex XII
Certificates issued by a notified body
Annex XIII
Performance evaluation, performance studies and postmarket performance follow-up
Annex XIV
Interventional clinical studies and certain other performance studies
Annex XV
Correlation table (with the IVDD)
IVDD to IVDR Transition Timeline
The timelines for transition from the In Vitro Diagnostic Directive (98/79/EC) to the In Vitro Diagnostic Regulation (IVDR 2017/746) are outlined in Article 110 of the IVDR.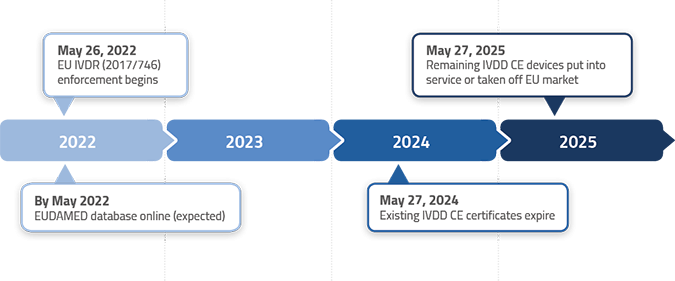 Here are some typical examples of devices and when they might/must make the transition from IVDD to IVDR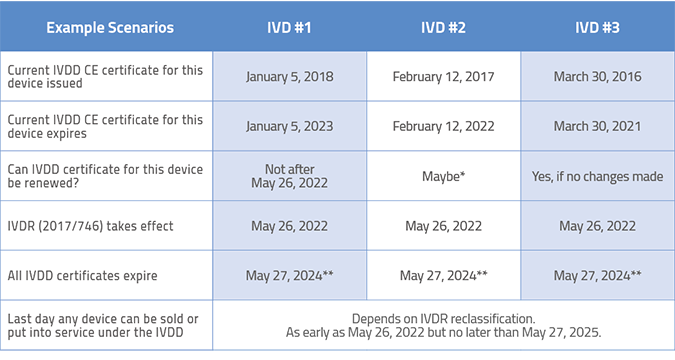 *Because the renewal date for this IVDD certificate falls so close to the IVDR implementation date, it may be difficult to get Notified Body resources for renewal. Plan far ahead.
**Even though the certificate is normally valid for 5 years, the IVDR mandates that all IVDD certificates expire no later than May 27, 2024.
Of course, the table above focuses on how you can maximize the leniency associated with the existing In Vitro Diagnostic Directive (98/79/EC). In some cases, you may choose not to renew your existing IVDD certificate and pursue IVDR certification instead. That may seem crazy, but there are situations where this may make sense. If your product has strong clinical data, certify early to gain a competitive advantage. If it has a marginal story to tell, perhaps wait to allow more time to gather the necessary data. Smart companies will be rewarded with lower costs if they take this seriously and do not procrastinate on their compliance efforts.
There's Much More to the Story…
If you enjoyed reading this blog post, continue reading our second post where we talk more about the technical documentation needed to support CE Marking certification. If you really want to take a deep dive into the IVDR, consider our in-depth training class on the IVDR – available in person or online.