Oct 19, 2018
Did You Get What You Paid For? Evaluating Products Purchased from Medical Device Suppliers and Contractors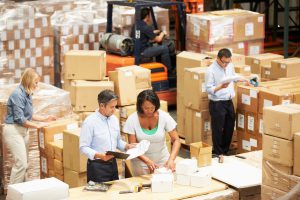 When purchased products arrive at your facility, you need to confirm that they meet the requirements established in your quality agreement.
What's the best way to go about that?
First, consider the risk associated with the purchased product and then examine any actions the supplier has already taken to verify compliance.
Choosing the right verification method is a risk-based decision and there are a variety of methods available.
These include:
100% inspection
Sampling inspection
Skip-lot testing
Assessment of pre-shipment samples
Acceptance on Certificate of Analysis/Conformance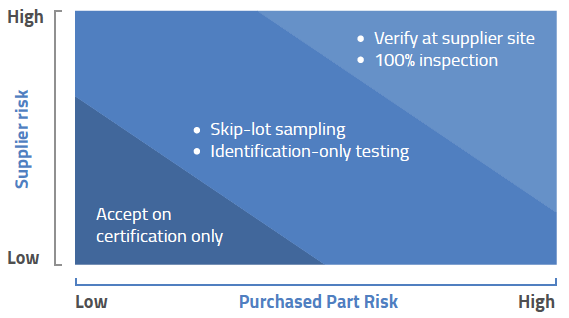 This is the final installment of a 4-part blog series on supplier management. Read part 1
Know More
. We've combined all four posts into one easy-to-read PDF.
Download it here
.
Inspection of a product is not a replacement for robust supplier controls. Inspection is typically a sampling of products received and does not ensure overall process quality.
In some cases, you may want to perform verification at the supplier site. Situations that may warrant this include first-time production runs or after significant changes have been made to processes. On-site verification may also make sense when a product is shipped from one supplier to another for the next stage in the manufacturing process.
Handling nonconforming products
So, what happens when purchased product does not meet requirements? ISO 13485:2016 Section 8.3 "Control of nonconforming product" deals with this issue. Your supplier QMS needs to define how nonconforming purchased product will be managed to ensure it is:
Identified
Documented
Segregated
Evaluated
Disposed of properly
If purchased product does not meet requirements, you need to follow up with the supplier in a timely manner. In your communication with the supplier, you should:
Identify the purchased product using supplier part, lot, and/or material numbers.
State the production date (if known) and the date of receipt.
Send a sample of the defective product.
Share any data or conclusions from your investigation of the issue.
Request confirmation of the issue along with their assessment of the situation and extent of the issue.
Request a root cause investigation and corrective action plan.
Specify a deadline for response.
You should use a separate, controlled form to send this information to the supplier, and include another form that the supplier can return with requested information. Ironically, many organizations call this a SCAR (Supplier Corrective Action Report). Also, don't sit on your thumbs waiting for a response. Be polite but proactive and check on status. Remember, you are ultimately the one who needs to answer for product quality!
Once you receive a response from the supplier, it is important for you to begin a root cause investigation and file a CAPA. You'll need to review the information contained in the response for acceptability. Did the supplier do a thorough investigation? Was the root cause identified? Does the proposed CAPA appear to address the root cause? Is the timing acceptable?
File a formal response with your supplier, letting them know if you accept their response or want additional information. Incorporate any relevant information they provide into any related internal CAPA activities and monitor their progress.
If the supplier can't determine root cause or does not provide an adequate response, they might not be familiar with how to properly conduct root cause investigation and corrective action. Rather than express your frustration, try to help them by sharing your own best practices. If they cannot verify, or will not accept, that the product is nonconforming, the issue may be a test or application error after the supplier's process. Review your process and continue the investigation.
Dealing with supplier issues and building a win-win relationship
Unfortunately, despite your best efforts at qualification and monitoring, you can be assured that long-term recurring issues will occur with purchased products. The best approach is to work through the issue with your supplier, focusing on the problem instead of the people. The problem may be rooted in the supplier's lack of expertise in problem solving, insufficient technical knowledge, inadequate product requirements, or poor management. Also, take a look in the mirror. Some supply problems might have their origins in your company due to lack of clarity in quality agreements or insufficient communication of expectations.
Always remember that your goal is to solve the problem and maintain a positive working relationship. You do not want to be in a situation where your supplier no longer wants to work with you because the situation has become too confrontational. That being said, sometimes you do need to escalate an issue through the organization. Do so professionally and use fact-based evidence. Don't be accusatory and, unless absolutely necessary, avoid doing an end run around your primary supplier contact.
Sometimes, despite all best efforts, you may need to disqualify a supplier for being unable to solve recurring significant issues or being unreliable. This is one instance in which you will rely on predefined steps for disqualification in your QMS. You'll need to document your justification, perform an impact assessment, and plan for transitioning to a new supplier. Consider using your organization's existing change control process as a way to manage this.
Your medical device suppliers are your partners
Successful medical device companies do everything they can to maintain positive supplier relationships. Happy suppliers (like happy employees) deliver better quality. They are more willing to work with you on pricing. They prioritize your jobs when needed. All of this can work in your favor, but it is also important to keep in mind that you are the one responsible for the quality of supplier products. Maintaining appropriate controls is key.
Learn more about medical device supplier and subcontractor controls.
We hope you enjoyed this article. You can download all four posts in this series a single PDF here. Also, if you want to take the next step and truly enhance your knowledge on this topic, consider our comprehensive Medical Device Supplier Quality Management Training class. As always, we are available to assist with consulting and auditing related to supplier management and other aspects of QMS compliance.
Get answers right now. Call

US OfficeWashington DC
EU OfficeCork, Ireland