Does Your Medical Device CER Meet EU MDR Requirements? Creating a Solid Clinical Evaluation Process
August 13, 2019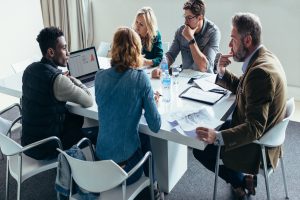 Medical device regulatory professionals have been grappling with tighter requirements for clinical data to support clinical evidence since MEDDEV 2.7/1 Rev. 4 was released in mid-2016. Now that the European Medical Device Regulation (2017/745) is nearing implementation, clinical evaluation reports (CERs) have taken on new urgency.
Regardless of whether you are making updates to existing CERs or building one for a product launch, you want to make sure that you don't experience any nasty surprises during your Notified Body audit and technical documentation review. The first step is to to create a robust clinical evaluation plan.
As you probably know, medical device manufacturers can fulfill clinical evidence requirements using one or more of the following:
Premarket clinical studies (the most expensive and time-consuming option, but necessary for new technology/indications)
Literature searches for existing clinical studies for equivalent devices (least expensive, most common)
Compliance with harmonized standards (e.g., IEC 60601-1 on electrical safety)
Data generated from PMS activities and postmarket clinical studies, such as postmarket clinical follow-up (PMCF)
Clinical investigations
Postmarket clinical follow-up
Stages in the Medical Device Clinical Evaluation Process
Before we go into detail on the process, here's an overview of the various stages outlined in MEDDEV 2.7/1 Rev. 4 and where you will find guidance on each stage.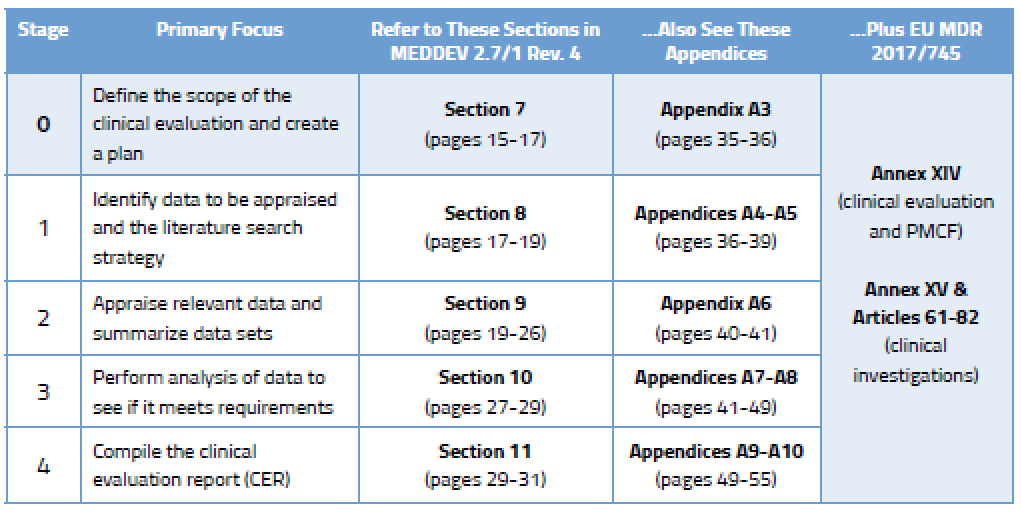 Clinical Evaluation Stage 0:
Defining the Scope and Drafting a Clinical Evaluation Plan
Published literature is a key component (for some the only component) of the clinical data gathered by most companies. While it may be tempting to dig in and start doing literature searches straight away, it's important that you understand what is needed in the first place. This "scoping" process is vital because you will need to explain and defend it to your Notified Body, and you will need to replicate it in the future.
Your clinical evaluation plan will define the extent of information gathered based on the General Safety and
Performance Requirements in Annex I of the MDR. MEDDEV 2.7/1 Rev. 4 defines numerous aspects that should be considered in a thorough clinical evaluation plan. You can find much more detail on the elements to be considered during Stage 0 in Section 7 of the MEDDEV, which delineates between new medical devices and those that already have CE Marking.
---
MEDDEV 2.7/1 Rev. 4 states: Clinical evaluation is necessary and important because it ensures that the evaluation of safety and performance of the device is based on sufficient clinical evidence throughout the lifetime that the medical device is on the market.
---
Here are some of the aspects that need to be included in your CER scoping process. Some of these issues apply only to "new" devices getting CE Marking for the first time.
Device description – see Appendix A3 of the MEDDEV
CE Marking status of the device
Where the device is marketed outside Europe
Design features, names, models, sizes, components, etc.
Intended use of the device and special indications or target populations
Risk management documentation
Current device state of the art
Data sources and types to be used
Information needed for demonstrating equivalence (new devices only)
Design, manufacturing, materials, or labeling changes (devices with CE Marking)
Any newly emerged clinical concerns (devices with CE Marking)
New data generated from PMS (devices with CE Marking)
Of course, the amount of data deemed necessary to meet sufficient clinical evidence and the General Safety and Performance Requirements will also be determined by the nature of the device, its stage in the life cycle, and its safety record.
Article 1(a) of Annex XIV in the MDR provides additional detail about what the clinical evaluation plan should include. You'll want to study this in addition to Section 7 of the MEDDEV before crafting your plan.
Making Sure CER Evaluators Are Qualified
Before you dive into planning, you'll also want to know that the MEDDEV sets some pretty specific guidelines for who can take on this important task. Evaluating clinical data is serious business, and regulators want to ensure that the people performing the evaluation are well qualified to do so. Section 6.4 of the MEDDEV outlines the basic requirements. Evaluators should have an appropriate college degree plus 5 years of professional experience or 10 years of experience if a degree is not a prerequisite. In addition, Section 6.4 goes on to say that evaluators should have knowledge of:
Research methodology
Information management
Regulatory requirements
Medical writing
Application of the specific device technology
Diagnosis and management of the conditions to be diagnosed or managed by the device
These qualifications will need to be documented and you can be certain that your Notified Body will review documentation related to reviewer qualifications.
Next Step: Finding and Evaluating Clinical Data
If you found this blog post to be informative, continue reading our next post on Stages 1 and 2 in the process. Also, if you need to get up to speed on all CER requirements contained in MEDDEV 2.7/1 Rev. 4 and the EU Medical Device Regulation, consider our day EU CER training class. Classes are offered in-person or as virtual learning events.