Analyzing Your Medical Device Clinical Datasets and Drawing Conclusions
August 15, 2019
Anyone who has ever researched and compiled an entire European clinical evaluation report knows that the devil is in the details. Finding appropriate clinical data is not necessarily the most challenging aspect of the process – it's the appraisal and analysis of that data that causes regulatory heartburn.

Many professionals interchange appraisal and analysis, but those are actually two distinct steps in the process. When you appraise data, you are looking to make sure it has statistically significant data sets, uses proper statistical methods, has adequate controls, and properly collects mortality and/or serious adverse event data.
During the analysis stage (Stage 3) you will really dig in and conduct a comprehensive assessment to determine if the data you have found meets clinical safety requirements, clinical performance requirements, and General Safety and Performance Requirements (GSPR) of the EU Medical Device Regulation (MDR). You will evaluate the following:
Is the performance bench testing or animal testing data adequate to verify safety of the device?
Is the risk-benefit ratio appropriate based on the intended purpose of the device?
Can the device actually achieve all performance claims made by the manufacturer?
Are the materials (e.g., IFU) supplied by the manufacturer adequate to describe the intended purpose and mitigate risk?
Clinical Evaluation Stage 3: Clinical Data Analysis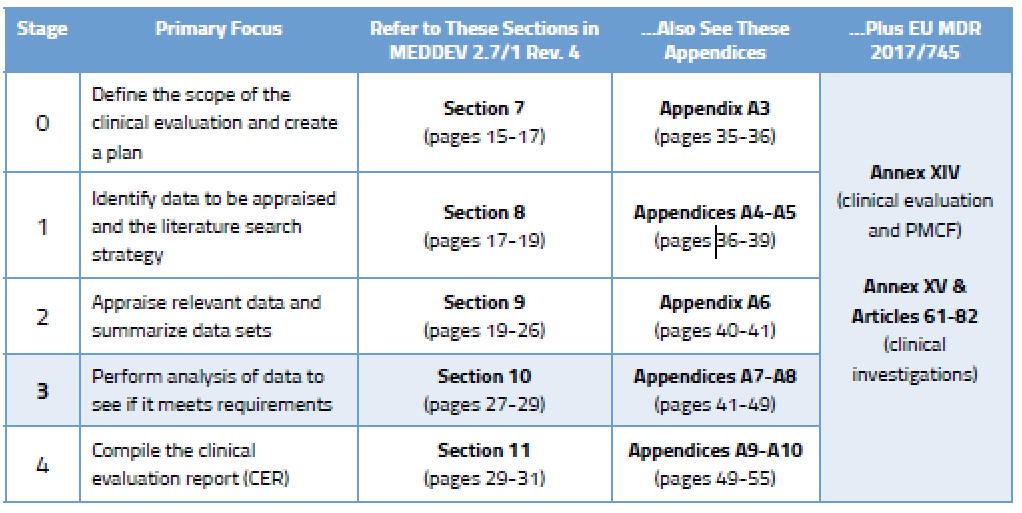 During Stage 3 you are expected to analyze the data to ensure the clinical evaluation demonstrates that any risks are minimal and acceptable. You also need to consider all aspects of the device's intended purpose. You'll find more detail on this in Section 10.2 of MEDDEV 2.7/1 Rev. 4, and in Annex AVII. You will identify gaps related to:
Understanding the interaction between the device and body
The completeness of the data available
Type and adequacy of patient monitoring
Number and severity of adverse events
Severity and history of the condition being treated or diagnosed
Current standards of care
Other factors
Data from the literature you have appraised is often put into Excel tables to be analyzed. It's a convenient way to compare different study details, patient populations, endpoints, adverse events, etc. This can end up being a sizable amount of data unto itself, but certain aspects can be parsed into "bite-sized" tables focused on particular issues. While spreadsheets are not especially wonderful for narrative explanations, they are useful as quick comparative tools and are extremely helpful in noting differences between studies when writing the summary.
Alignment Between Clinical Evaluation, IFU, and Risk Management
Your analysis should also examine the alignment between the clinical evaluation, labeling/instructions for use (IFU), and the risk management file, as well as the current state of the art. Reviewers need to pay very close attention to make sure that, for example, the IFU and promotional materials are harmonized with regard to medical conditions and target populations. This analysis also needs to be consistent with the appraisal you conducted during Stage 2. Here's what Appendix A7.1 of MEDDEV 2.7/1 Rev. 4 has to say about it:
"The information materials supplied by the manufacturer (including label, IFU, available promotional materials including accompanying documents possibly foreseen by the manufacturer), should be reviewed to ensure they are consistent with the relevant clinical data appraised in Stage 2 and that all the hazards, information on risk mitigation, and other clinically relevant information have been identified appropriately."
It is expected that you will conduct the analysis with input from your risk management files and appropriate standards such as IEC 60601-1 (electrical safety) and EN 62366 (usability). The goal, of course, is to demonstrate that any risks associated with the intended purpose of your device are acceptable when weighed against the benefits it offers the patient or user.
Are Additional Clinical Investigations Needed?
How much is enough? There is no definitive rule that determines whether you have collected enough clinical data to meet the General Safety and Performance Requirements (GSPR) of the EU Medical Device Regulation (MDR). You need to conduct a detailed gap analysis and come to your own conclusion about whether supplemental clinical investigations will be required. At this time, you should also determine whether there are residual risks and uncertainties. This might include factors related to rare complications, long-term performance, or safety under widespread use. You'll find more information on this in Appendix A2 of MEDDEV 2.7/1 Rev. 4.
Next Step: Assembling Your Clinical Evaluation Report (CER)
If you found this blog post to be informative, continue reading our final post on Stage 4 in the process. Also, if you need to get up to speed on all CER requirements contained in MEDDEV 2.7/1 Rev. 4 and the EU Medical Device Regulation, consider our 3-day EU CER training class.