Writing Your EU MDR Clinical Evaluation Report and When to Update It
August 15, 2019
You've done a lot of work to get this far. Writing a medical device clinical evaluation report (CER) is the culmination of a monumental effort to conduct literature searches, find/review literature, and/or conduct original clinical investigations. Data must be sourced, appraised, analyzed, and then summarized into your CER. This final process – writing the CER itself – is commonly referred to as Stage 4.
Clinical Evaluation Stage 4: Compiling the CER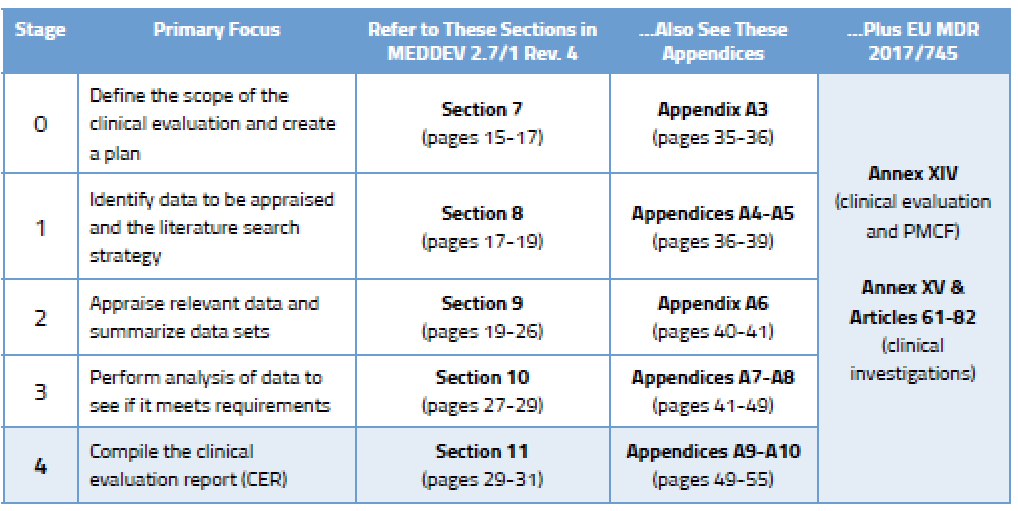 Creating Your EU CER Template
Because the contents of a clinical evaluation report vary according to the nature and history of the device being evaluated, neither MEDDEV 2.7/1 Rev. 4 nor the EU MDR provide a detailed CER template. However, Appendix A9 of the MEDDEV does provide nearly six pages of guidance on what the structure of your CER should look like and what content it should contain. Here's the basic outline.
1 – Summary
2 – Scope of the clinical evaluation
3 – Clinical background, current knowledge, and state of the art
4 – Device under evaluation:
Type of evaluation
Demonstration of equivalence, if applicable
Clinical data generated and held by manufacturer
Clinical data generated from literature searches
Summary and appraisal of clinical data
Analysis of the clinical data
5 – Conclusions
6 – Date of next clinical evaluation
7 – Dates and signatures
8 – Qualification of the responsible evaluators
9 – References

Create a CER Checklist: Do You Have Everything Covered?
You've done all the hard work, but are you sure you didn't forget anything? The checklist found in Appendix A10 should help. Here's an abbreviated version of it. (Note that this is only a partial list, to give you a flavor of what your CER checklist should include.)
Is the report understandable to a third party and does it provide sufficient detail?
Is all data generated, mentioned, and summarized in the report?
If claiming equivalence, are differences adequately disclosed and explained as to why you don't expect them to affect safety and performance?
Has the latest PMS/PMCF data been taken into account and summarized?
Is current state of the art explained and substantiated?
Are undesirable side effects and the risk/benefit profile acceptable when compared to state of the art?
Is conformity to MDR General Safety and Performance Requirements stated?
Do informational materials supplied correspond with contents of the report?
Does the report identify all residual risks or uncertainties that should be addressed in PMS/PMCF studies?
Is the report dated and qualification of the evaluators included?
If the CER covers several models, sizes, settings, or situations, are the conclusions correct for:
All devices, sizes, models, and settings?
Every medical indication?
The entire target population and all intended users?
The duration of product use, including repeat exposure?
How Often Your EU CER (Clinical Evaluation Reports) Should Be Updated
Section 6.2.3 of MEDDEV 2.7/1 Rev. 4 provides guidance to manufacturers on how often to update clinical evaluations. It says that the "manufacturer should define and justify the frequency" of CER updates. Typically, this is done in concert with your Notified Body audit and certificate renewal, but that predefined schedule can be tossed out the window if your postmarket surveillance activities uncover new risks.
Shown below is an example of how you could rationalize the frequency of updates to your CER. This sample shows a simple evaluation table for an ECG machine that is well established on the market and has decent clinical history. You can, of course, create your own rating system with more factors, and you could weight these factors as well. We've kept the table simple in order to illustrate the point that your NB wants to see that you have a systematic approach to determining your CER update schedule.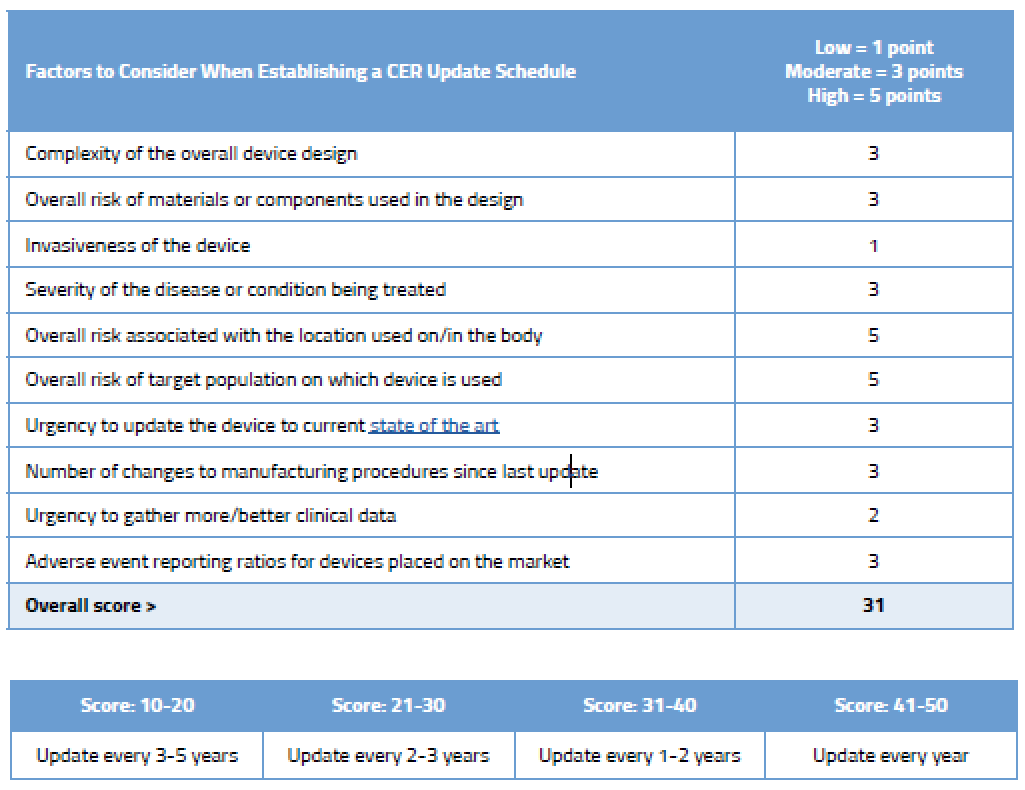 As you can see in this example, even though this device is an established ECG with good clinical history, due to its inherently complexity, where it is used on the body, and the target population on which it is used, updating the CER every few years is still recommended.
Regardless of your proposed rationalization for the update schedule, you must update the CER after getting new information from your postmarket surveillance activities that might change your current evaluation. For example, safety reports, newly published literature, or PMCF studies may uncover previously unknown safety concerns. Data from these sources must be to evaluated because it may change your risk/benefit profile. Remember that Annex XIV, Part B of the MDR mandates that your PMCF plan specify the "methods and procedures for proactively collecting and evaluating clinical data."
Your CER Is a Critical Component of Your Technical Documentation
Along with your risk management documentation and postmarket surveillance plan, the clinical evaluation report is a centerpiece of the technical documentation needed for CE Marking. While we think of the CER primarily as a regulatory exercise, it's important to remember that the ultimate goal is the advancement of patient safety. Looking at it through that lens will help you focus on the right things and create a CER in full compliance with MEDDEV 2.7/1 Rev. 4 and the EU MDR (2017/745).
Advance Your Knowledge of Clinical Evaluation Reports
If you found this blog series to be informative and you want to take the next step in advancing your knowledge of all things CER, consider our EU CER training class. Our consultants are also available to help you with EU CER development and gap analysis.