Mar 15, 2018
Table of Contents for the EU MDR 2017/745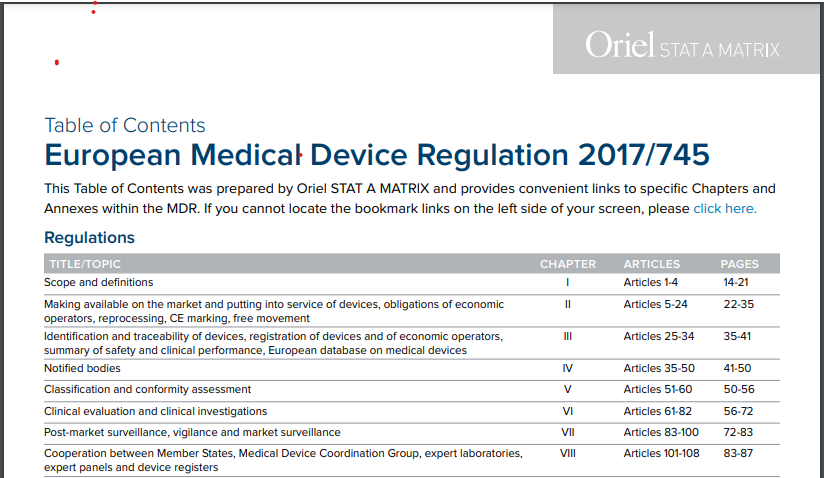 If you have downloaded the 175-page European Medical Device Regulation PDF but are frustrated that it does not contain a Table of Contents, Oriel STAT A MATRIX has come to your rescue. We have taken the official MDR regulation as published on May 5, 2017 and added a very easy-to-navigate clickable MDR Table of Contents – all in one single PDF.
We've added internal links so you can quickly access every Chapter, Article, and Annex!
Inside the Table of Contents for MDR 2017/745, you'll find quick links to every significant section, including:
CHAPTERS/ARTICLES
Chapter I, Articles 1-4 – Scope and definitions
Chapter II, Articles 5-24 – Making available on the market and putting into service of devices, obligations of economic operators, reprocessing, CE marking, free movement
Chapter III, Articles 25-34 – Identification and traceability of devices, registration of devices and of economic operators, summary of safety and clinical performance, European database on medical devices
Chapter IV, Articles 35-50 – Notified bodies
Chapter V, Articles 51-60 – Classification and conformity assessment
Chapter VI, Articles 61-82 – Clinical evaluation and clinical investigations
Chapter VII, Articles 83-100 – Post-market surveillance, vigilance and market surveillance
Chapter VIII, Articles 101-108 – Cooperation between Member States, Medical Device Coordination Group, expert laboratories, expert panels and device registrars
Chapter IX, Articles 109-113 – Confidentiality, data protection, funding and penalties
Chapter X, Articles 114-123 – Final provisions
ANNEXES
ANNEX I – General safety and performance requirements
ANNEX II – Technical documentation
ANNEX III – Technical documentation on post-market surveillance
ANNEX IV – EU declaration of conformity
ANNEX V – CE marking of conformity
ANNEX VI – Registration of devices and economic operators; UDI
ANNEX VII – Requirements to be met by notified bodies
ANNEX VIII – Classification rules
ANNEX IX – Conformity assessment based on a quality management system and on assessment of technical documentation
ANNEX X – Conformity assessment based on type-examination
ANNEX XI – Conformity assessment based on product conformity verification
ANNEX XII – Certificates issued by a notified body
ANNEX XIII – Procedure for custom-made devices
ANNEX XIV – Clinical evaluation and post-market clinical follow-up
ANNEX XV – Clinical investigations
ANNEX XVI – List of groups of products without an intended medical purpose
ANNEX XVII –Â Correlation table showing Council Directive 90/385/EEC, Council Directive 93/42/EEC and the MDR
Need help understanding what to do next?
If you need help with MDR transition strategy, gap assessments, or simply getting up to speed quickly on the MDR requirements, check out our MDR training and consulting options. Oriel STAT A MATRIX has been assisting medical device companies with QA/RA compliance for decades and we can help you smoothly transition to the MDR.
Get answers right now. Call

US OfficeWashington DC
EU OfficeCork, Ireland