7 Things You Should Do to be Ready for the New EU Medical Device Regulation in 2020
May 1, 2019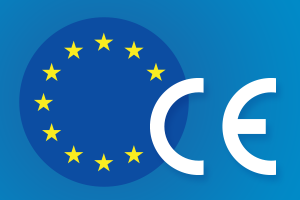 The new EU Medical Device Regulation (MDR 2017/745) represents a seismic change in how medical devices are regulated in the EU. Complying with the new regulation presents a whole new set of challenges for RA/QA professionals, and it is key to understand those changes and develop a sound transition strategy.
Want this entire article as a PDF? Download it here
How the New European Medical Device Regulation Came to Be
In April 2017, the EU adopted the Medical Device Regulation (MDR) to replace the existing Medical Devices Directive (93/42/EEC). The new regulation is intended to enhance patient safety by improving device quality in the wake of two major medical device regulatory oversight scandals involving hip and breast implants. It also addresses industry changes that have occurred since the Medical Devices Directive was released in 1993. A separate regulation for in-vitro diagnostics (the IVDR) allows the EU to better address key differences between medical devices and IVDs.
The new EU MDR regulation includes a multiyear transition period, with a "date of application" (when it becomes mandatory) of May 26, 2020. 
Transition Timeline for the EU Medical Device Regulation 2017/745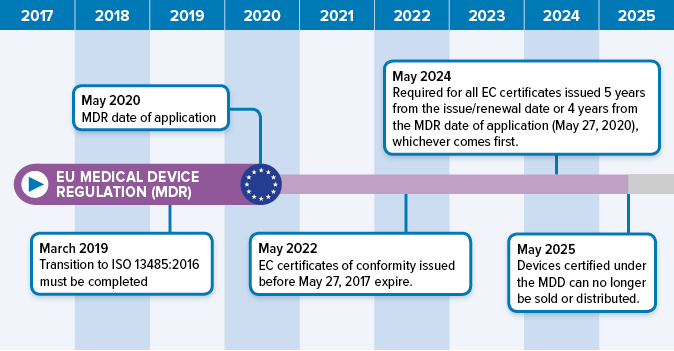 The MDD Is a Directive. The MDR Is a Regulation. What's the Difference?
In the context of the EU, a regulation is similar to a national law, but it applies to all EU countries.
The benefit of a regulation is consistency: It ensures that the same requirements are implemented throughout the EU at the same time. A directive contains general rules that EU member states transpose into their national laws. Each member state does this in a manner considered appropriate for its own country. That's why, under the MDD, some EU countries such as France, Italy, Poland, Spain, Portugal, and Germany have extra requirements beyond those stipulated in the directive.
So, What's Changed in the New 

Medical Device Regulation

?
1. Expanded device definitions require you to reexamine current classification of all devices.
The EU MDR brings changes to device classification. For example, the EU MDR introduces a new "Class I, Reusable Surgical Instruments" category and expands the definition of medical devices to cover the increasingly novel and complex products used in the healthcare industry, such as software. The EU MDR also strengthens the definition of a medical device. New EU MDR classification rules will have a direct impact on:
Software
Nanomaterials
Nonsurgical invasive devices
Devices composed of substances introduced via a body orifice or applied to the skin
Active therapeutic devices with an integrated diagnostic function that significantly impacts how patients manage the device
Products without an intended medical purpose such as nonabsorbable dermal fillers or liposuction instruments
Finally, the EU MDR consolidates the conformity assessment routes from six to three methods but imposes more requirements within the routes, including a requirement to implement a fully compliant quality management system. 
KEY QUESTIONS TO CONSIDER:
Has the classification of your device changed under the EU MDR?

Which conformity assessment route will you choose for your product?
2. Pretty much everyone now needs a quality management system.
The new EU MDR requires manufacturers, distributors, and importers to implement a comprehensive quality management system (QMS). Most companies meet this requirement by obtaining ISO 13485:2016 certification, although having a compliant ISO 13485:2016 QMS will not fulfill all of the new requirements specified in the EU MDR, as you will see below. The regulation includes specific requirements related to the inclusion of a postmarket surveillance system for each device as an integral part of the manufacturer's QMS. Newly defined responsibilities for distributors and importers related to postmarket surveillance will help manufacturers better understand their device throughout its entire life cycle.
KEY QUESTIONS TO CONSIDER:
How will you perform a gap assessment of your current quality management system against the QMS requirements in the regulation?

Is now the time to obtain a certified ISO 13485 quality management system?
3. Reexamine your Technical "File" because it's about to get thicker.
In crafting the new regulation, EU regulators wanted to quash any hopes you might have that your safety and performance data could still fit into a simple "file" folder, so they changed the name to "Technical Documentation." In all seriousness, your clinical evaluation (CE) Technical Documentation is a full set of information that demonstrates how general safety and performance are supported by design controls, manufacturing, risk assessment, postmarket, etc. – it basically includes all technical information about your device. Manufacturers must also describe how to handle and document changes to the Technical Documentation in a formal procedure. There is no longer a distinction between a Technical File and a Design Dossier. Annex 1 in the EU MDR replaces the former "Essential Requirements" with newly phrased "General Safety and Performance Requirements." These requirements are similar, but they have been expanded in some areas, incorporate requirements for active implantable devices, and introduce the use of a benefit-risk ratio.
KEY QUESTIONS TO CONSIDER:
How will you apply the benefit-risk ratio and integrate risk into your device design and development?

How will you assess the gaps between your current processes and the new Technical Documentation and Annex 1 requirements?
4. Prepare for more stringent clinical evaluation requirements.
The 2016 release of MEDDEV 2.7/1 rev 4 expanded the requirements for clinical data, and the EU MDR reinforces this requirement. Manufacturers of medical devices must plan, conduct, and document a clinical evaluation to demonstrate conformity with the relevant general safety and performance requirements found in Annex 1. This evaluation, and the related documentation, must be updated with postmarket clinical data throughout the life cycle of the device. Also, the EU MDR imposes much tighter restrictions on "device equivalency" for purposes of Clinical Evaluation Reports (CER). You will want to review your CER very carefully to ensure compliance with the new requirements. There are additional requirements to report specific events to the upcoming EU medical device electronic reporting system (EUDAMED).
KEY QUESTIONS TO CONSIDER:
How will you identify and address the expanded requirements related to postmarket surveillance, the process of clinical evaluation, and the necessary clinical evaluations?

How will you address the stronger linkage between clinical evaluation and risk management?

How will you plan to evaluate the device's use in the field and the benefit-risk ratio on a continuous basis?
5. You'll need to comply with new identification and traceability (UDI) requirements.
The regulation contains new Unique Device Identification (UDI) requirements. Fortunately, UDI has already been implemented by other regulators such as the US FDA, so they are not new to most manufacturers. The EU regulation requires Class I devices to also provide a product identifier on the labeling. The UDI requirements impose regulatory liabilities on all economic operators in the supply chain to help ensure accountability for devices provided to healthcare institutions/providers and patients. The EU regulation also expands the use of electronic systems – EUDAMED – to manage UDI information and provide more information transparency. Since you will be modifying packaging and labeling to incorporate UDI information, this would also be good time to consider switching your Authorized Representative (EC Rep) if desired, since their name will also appear on your packaging, labels, and indications for use (IFU).
KEY QUESTIONS TO CONSIDER:
How will you implement a UDI system that goes beyond assigning a number for traceability to also incorporate changes to the quality system?

How will you design the UDI system to ensure that changes to medical devices and their labeling and packaging are properly controlled?

How will you identify the slight variations among the UDI requirements of different regulatory agencies and those in Europe?
6. Your postmarket surveillance efforts will need to expand.
The regulation places a larger emphasis on postmarket activities. They require organizations to have a postmarket surveillance (PMS) system based on a postmarket surveillance plan. This plan and PMS documentation must be part of the technical documentation for the device – a significant difference from previous requirements. Another significant change is that PMS is viewed as a proactive process that requires medical device manufacturers to be fully aware of their products in the market. As part of being proactive, the regulation emphasizes trend reporting requirements that must be actively monitored and reviewed. Manufacturers must prepare a Periodic Safety Update Report (PSUR) for each Class IIa, Class IIb, and Class III device that is submitted to the Notified Body for review. Manufacturers will also submit vigilance and postmarket surveillance reports to EUDAMED.
KEY QUESTIONS TO CONSIDER:
How will you assess your current postmarket activities to understand the impact of the significant new requirements related to postmarket surveillance?

How will you redesign your complaint-handling processes to make them more proactive?

How will you ensure that postmarket surveillance information is tied back into risk management, clinical evaluation, and design changes for the product? 
7. Stronger auditing requirements means internal audits will become more important.
The new regulation reinforces the authority and responsibilities of Notified Bodies for performing quality system conformity audits. They also strengthen the position of the Notified Bodies in their relationships with manufacturers, including their right and duty to carry out unannounced factory inspections and conduct physical or laboratory tests on devices. There is a new obligation for Notified Bodies to notify an expert committee when they receive applications for conformity assessments of high-risk devices. This requirement reflects the larger concern in the EU with the public health risks posed by these devices. Notified Bodies in Europe are also busy preparing for the new requirements in the EU MDR. There continues to be a decline in the number of EU Notified Bodies that can comply with existing requirements, and their availability will not improve anytime soon. You should expect to encounter delays when scheduling Notified Body audits, as you will be competing with every other manufacturer selling devices in Europe. Also, the new Medical Device Single Audit Program  (MDSAP) certification becomes mandatory for companies selling in Canada starting in early 2019, and this is exerting even more pressure on Notified Bodies as companies press to schedule MDSAP audits.
KEY QUESTION TO CONSIDER:
How will you prepare your internal audit team and organization for more in-depth surveillance assessments, including an audit of your quality management system?
No time for procrastination
The new EU MDR changes are substantial and will require significant attention and internal resources. You don't have to make the transition alone. Oriel STAT A MATRIX offers a full range of support options for European market access, including CE Marking support and ISO 13485 implementation, auditing and training. We can help you make the transition in several ways:
Train your team on the EU MDR requirements
Providing portfolio assessments to determine product classification changes and prioritize the needed actions.
Performing gap assessments of the MDR requirements against existing processes.
Developing an EU regulatory strategy and MDR transition plan and facilitating execution of the plan.
Have more questions about preparing for the European Medical Device Regulation?
Let us help put you on the path to a smooth transition to the new Medical Device Regulation. Our team can assist with MDD to MDR transition, or train your team on the MDR changes.