Apr 20, 2022
Supplementing Your Medical Device PMS Efforts with Online Data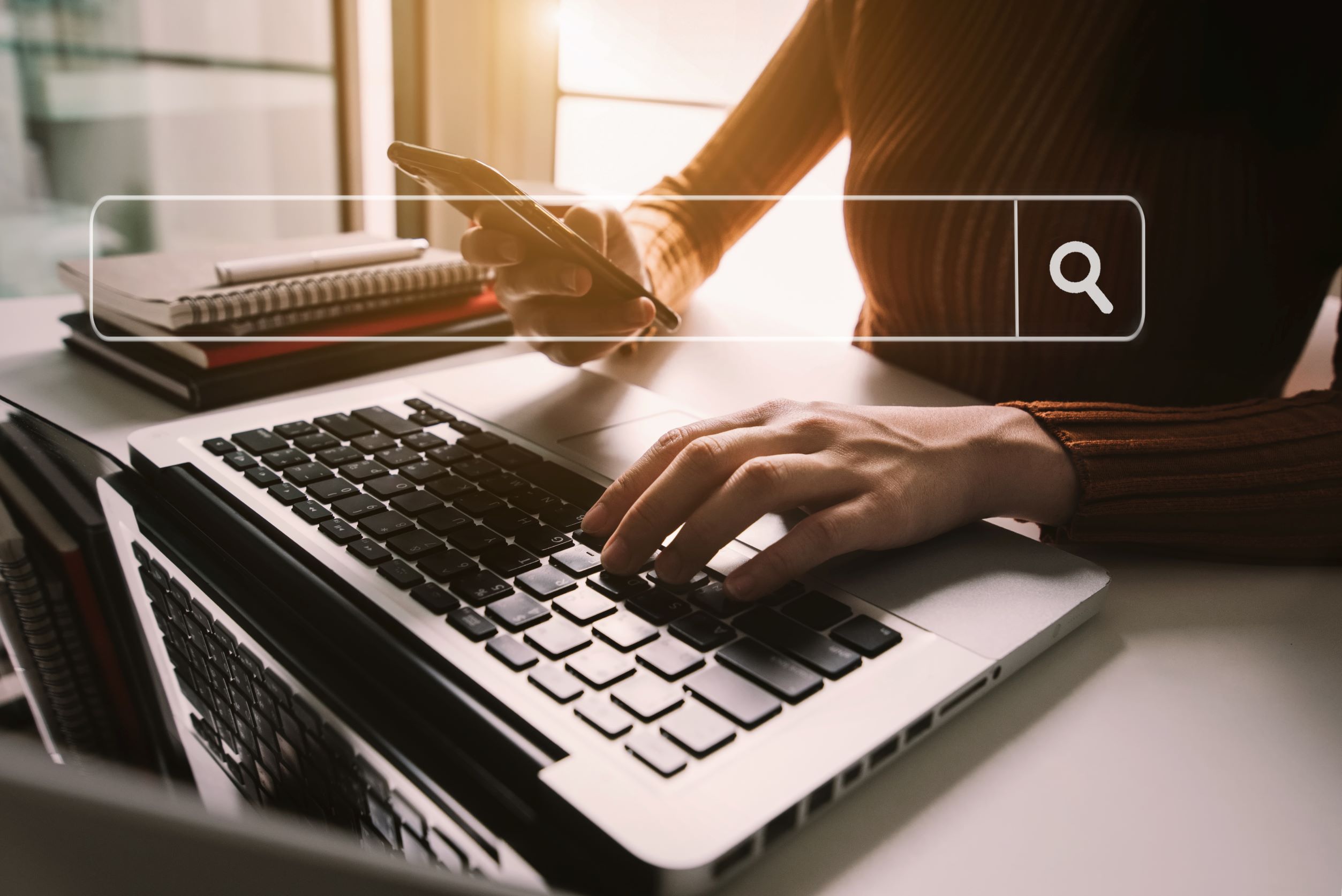 Blogs. Social media. Online forums. Product reviews. While postmarket clinical follow-up (PMCF) studies, user surveys, clinical registry studies, electronic health records, and insurance claims data are all important sources of proactive data, most complaints will never cross your desk. Instead, users will often take to online forums and social media to voice their concerns. These potential sources of postmarket surveillance (PMS) data are probably not high on your priority list. After all, trying to extract relevant and actionable PMS data posted online by users may seem like far more work than it is worth.
Yet, there is now a need to get more proactive about collecting PMS data, driven in part by regulators. The new European Medical Device Regulation (MDR), in particular, hammers this point home, emphasizing the importance of responding to issues faster (or preventing them) before they cause more harm.
Let us look at the potential trove of data at your fingertips and how you might find, assess, and trend those little golden nuggets you find online.
Potential Online Sources of PMS Data
By virtue of sheer volume, it is true there are a lot more user data online for consumer medical devices. However, there are also a wide variety of professional online forums dedicated to doctors, dentists, nurses, and clinicians who use medical devices every day. Some potential sources of PMS data include:
1 – Condition-specific online forums
2 – Healthcare professional discussion forums
3 – Product reviews
Let us look at each of these and what to expect.
Condition-Specific Online Forums
General social media sites (e.g., Facebook groups) and niche online forums (e.g., PatientsLikeMe) present an opportunity for you to join user groups dedicated to specific conditions. For instance, a quick search of "diabetes" in the groups section on Facebook reveals dozens of related groups, some of which have 30,000 to 60,000 members! You can search for similar groups on other social platforms, but Facebook is a good one because a greater percentage of users are adults and there are a LOT of them. An example of the potential nuggets of information you can extract is shown below.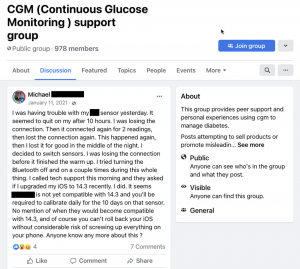 Keep in mind that social media brings out the dramatic nature in people. Situations are sometimes exaggerated for dramatic effect but still need to be taken seriously.
Another good place to monitor is PatientsLikeMe, an online platform with 850,000 users who share their experiences with others suffering from the same conditions. Aside from these platforms, you can also do a simple online search for "[insert condition name] forums discussion groups" and prepare to be amazed by the variety of groups you will find. Obviously, you cannot spend your workday searching these platforms, so we will give you some tips on how to most efficiently "mine" information from these sources later.
Healthcare Professional Discussion Forums
What if you sell a professional-use device? Is there still information to be found online? Yes, indeed! Sermo is one such example of an online forum where hundreds of thousands of clinicians and doctors worldwide converge to discuss treatments and options. Reddit and allnurses are also potential useful sites for information from doctors, nurses, and other healthcare professionals.
Remember that all social media platforms have built-in age / gender / ethnicity biases. For example, Facebook's demographic tends to skew older, TikTok audiences are generally younger, and 70% of Twitter users are male.
Product Reviews
If you sell a consumer device, you may be able to extract insights from product reviews. Comments from users can be useful for spotting issues with instructions for use (IFUs), as users will often express frustration online when they cannot figure out how to use a product they just purchased. See examples below.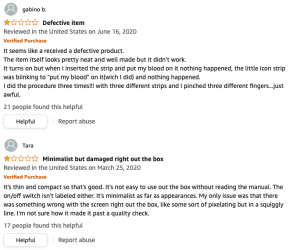 Do not just look at the big sites such as Amazon. You might also find consumer product reviews such as the ones shown below.


Some of these are from users, while others may be from websites dedicated to reviewing products.
The most surprisingly simple solution for finding potential issues is Google itself. In the example below, we entered a popular brand of blood glucose meters into Google and added the word "problems" to our query. Before hitting enter, Google will suggest a variety of common issues previously searched by other users.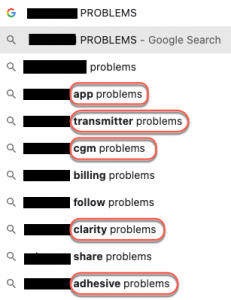 But wait, there's more! Hit enter and then scroll to the bottom of the page where you may find even more suggestions. Google does not typically show these until there is enough volume from previous searches on that exact topic, so these are all rabbit holes worth exploring.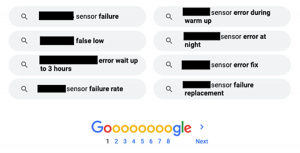 We Know What You Are Thinking: You Do Not Have Time to Monitor the Internet!
Let's face it, you have far different needs than your colleagues in marketing. While they are interested in spreading the love for your product, you look through the lens of product safety. For this reason, we recommend that the regulatory department set up its own social media listening tool set. What is that, you ask? These are online tools that scour all corners of the internet looking for mentions of your company, brands, or competitors! They are essential for sifting through troves of online reviews and comments from social media sites, blogs, forums, and shopping sites. Some affordable online listening tools include:
Ask your friends in marketing which social media listening tools they use and prepare to get a surprised response that you even know these tools exist. If they use them, they can help set up yours.
Data Privacy Limits Your Ability to Verify Reports on Social Media
Just because you find some interesting information on social media that does not mean you will be able to gather more information from the user about that specific situation. You are generally not going to be able to reach out to users and investigate complaints. Aside from Facebook, social media users on YouTube, Instagram, and other platforms are identified only by usernames. This can actually be an advantage. While users on Facebook may be reluctant to share device-related experiences with friends and family, that is not the case at all when people post online under pseudonyms to random strangers. While some platforms might allow you to reach out to a user via direct messaging on the app others will not.
Social Media as a Tool for Identifying Risks
We have not yet talked much about YouTube, but the multitude of "how to" videos posted there can be a great source for insights on how consumers use your products. For instance, you might find a pattern in the comments that show users are getting confused about your IFUs or on-screen instructions. You might even learn something from the video that can help you improve your IFUs!

Establish a Procedure for Gathering Online PMS Data
One last thought. It is all well and good to gather all of this information online, but many questions remain:
What are we supposed to do with this information since we cannot follow up with users to investigate the incident further?
How do we separate the noise from useful information worth trending?
How do we efficiently document it?
Here are a few tips.
If you join an online group, you could post a customer service phone, email, or web link and invite individual users to report their complaints. The intake form should have sufficient information for investigation follow-up. After all, it is an alleged deficiency, so you need to attempt to gather more information.
As with any process in the medical device world, there needs to be a governing procedure. Figure out what is practical and value-added for your organization and write it down.
Remember how Google categorizes problems? Be sure your risk management files have these groupings. Your procedure may say to mine these data for new or unidentified risks, for example. There may be feedback-type comments in these forums that can be useful for consideration on developing new features, extending claims, or improving user training. You could create groupings for this feedback or for problems, and you can certainly track trends using these groupings. Your procedure may say that you are going to trend for 6 months with no action to create a baseline for assessing future shifts. These techniques are particularly useful for capturing positive feedback after launching a new feature.
Want to Learn More?
Struggling to build out a robust and compliant PMS program? Oriel STAT A MATRIX offers a dedicated medical device postmarket surveillance training class that will help you stay on top of regulatory requirements and complement your ongoing risk management efforts.
Get answers right now. Call

US OfficeWashington DC
EU OfficeCork, Ireland