Nov 19, 2018
What's the Difference Between a Design History File (DHF), Device Master Record (DMR), and Device History Record (DHR)?
This is the last in a 3-part blog series on medical device design control. In the first post we talked about
the basics
followed by
design inputs and outputs
. We've also combined all three posts into one easy-to-read PDF, plus added some extras.Â
Download it here.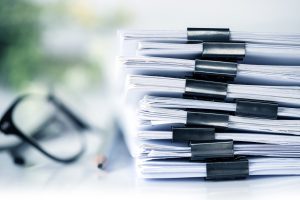 Congratulations. You've created all of your design inputs, defined the outputs, and conducted design verification. Your design is complete and you are ready for production. Now it's time to make sure those design outputs are correctly translated into written production specifications.
These specifications are typically composed of written documents, including:
Product and assembly drawings
Material specifications
Inspection and test specifications
Manufacturing instructions
Training materials
Drawings (tooling, fixtures, product, etc.)
Component procurement procedures
Workmanship standards
In some cases, the design transfer may come before validation when your ability to produce a prototype or production-level device cannot be achieved in another manner. If that's the case, you'll need to perform another design review during the design transfer process and create a cross-functional team that includes representatives from Engineering, Manufacturing, Materials Management, Quality, and Business Development. A design transfer checklist will help you ensure that nothing is forgotten.
Design history files, device master records, and device history records?
You would be forgiven for not being able to articulate the difference between a design history file (DHF), device master record (DMR), and a device history record (DHR). These records, while confusingly similar in name, are quite different in purpose and are cornerstones of the design control process. It's vitally important you don't conflate them. Before we talk about each of them, here's a quick primer on how they differ.

The medical device design history file (DHF)
As the name implies, the design history file is your repository for all records that demonstrate your medical device was developed in accordance with the approved design plan. You are required to maintain a DHF for each type of device. Â The DHF contains or references:
The detailed design and development plan that specifies design tasks and deliverables
Documentation proving the design was carried out according to the design plan
Activities of the different phases of the specific design process
Documentation of design reviews
Copies of approved design input and output documents
Validation documentation
Copies of controlled design documents and change control records
There are no specific requirements saying how you must organize your design history file or where you must store it. For simple products the design engineer may assemble and maintain the entire DHF. However, for larger projects you will most likely need a document control system housed in a centralized location. Your DHF and associated documents are an important part of any US FDA 510(k) or PMA submission.
Device master record (DMR)
The DHF shows how you developed your recipe, but the DMR is the recipe itself. In other words, it contains all the information needed to produce the device. Section 820.181 of the FDA QSR is specific about what the device master record should contain, including:
Device specifications
Production process specifications
Quality assurance procedures and specifications, including acceptance criteria
Packaging and labeling specifications
Installation, maintenance, and servicing procedures and methods
In maintaining this information, it is really most important that you think of the DMR as the place where you can store files and link to other data sources rather than keeping everything in the DMR itself.
ISO 13485:2016 combines the DHF, DMR, and other documentation into a file known as the "medical device file."
Device history record (DHR)
Continuing our cooking analogy, the device history record (DHR) is demonstrable proof that you followed the recipe, namely your DMR. It's required by FDA, but ISO 13485:2016 contains no such requirement. FDA specifies that your DHR must include the date of manufacturing for each batch, lot, or unit; the number you manufactured; the quantity released for distribution; the labeling used for each production unit; plus any UDI, UPC, or other identification used. You must also include your acceptance records, which show that you followed the recipe. Your DHR is particularly important during audits because the investigator may want to see your DHR and compare it against your DMR for compliance. If you are using a contract manufacturer, make sure your contract and device history record specify who reviews and releases the device.
Take the next step in learning about design controls
If you enjoyed this blog series, check out Oriel STAT A MATRIX's intensive design control training class. Also, if you're not sure where to start with implementing design controls in your company, we can help.
Get answers right now. Call

US OfficeWashington DC
EU OfficeCork, Ireland