Apr 01, 2021
Latest EU Medical Device Regulation (MDR) and In Vitro Diagnostic Regulation (IVDR) Updates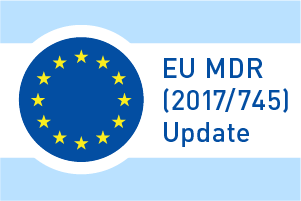 Following are a series of articles covering key EU MDR and IVDR topics.Â
Check back often for up to date news on which Notified Bodies have been designated, UDI, the European Commission implementation plan, timelines, and more.
---
Which EU Notified Bodies Will Be Designated Under the MDR and IVDR?
Most recent update: April 1, 2022
We have compiled a list of all Notified Bodies that are currently designated for each Regulation along with links to their scope of services. View it here.
---
MDCG releases new guidance on EUDAMED
February 28, 2021
EUDAMED is the new European database for medical devices and its first module became operational in December 2020. Rather than waiting until all six modules were ready, the EC released the "Actor Registration" module which allows manufacturers to register their company/devices and obtain a Single Registration Number (SRN). Because the first module is intended to work with the other five modules, the Medical Device Coordination Group (MDCG) released a new guidance document MDCG 2021-1 – Guidance on harmonised administrative practices and alternative technical solutions until EUDAMED is fully functional. The guidance provides helpful tables that cross reference different articles within the MDR and provide guidance on how to meet those requirements in the absence of a fully functional EUDAMED. It's definitely worth adding to your growing collection of MDR reference documents. We maintain a complete list of relevant MDR and IVDR guidance documents Know More.
---
European Commission Opens Door to Remote Notified Body Audits…For Now
January 13, 2021
Finally acknowledging that COVID is not going away anytime soon, and the EU MDR date of application coming in May, the European Commission issued a notice on January 11 stating that European Notified Bodies will now be temporarily allowed to remotely audit their medical device and IVD clients and their suppliers. This comes on the heels of a December recommendation by the Medical Devices Coordination Group (MDCG) to allow remote audits. Most Member States concurred with this recommendation after manufacturers and Notified Bodies pushed the issue, and the Commission finally agreed as well…with some caveats. Going forward EU Notified Bodies may choose to offer remote audits. Read more here.
---
UK MHRA Publishes New Guidance on Registration Process
December 12, 2020
In light of Brexit and the UK exit from the European Union, you may have read our September post about the MHRA decision to require medical device and IVD manufacturers to register their devices with the MHRA in 2021. Because the EU Authorized Representative will not longer have any meaning in the UK, the MHRA also created a new UK Responsible Person who, as the name so cleverly implies, is the person responsible for registering your devices. In December 2020, the MHRA added some details to their original plan as outlined Know More. Depending on the classification of your device, you'll need to register all devices with MHRA. The deadlines are fairly tight so you'll want to jump to it right away. Keep in mind that you are NOT getting approval from MHRA when registering. The MHRA will continue to accept valid CE Marking certificates until mid 2023. The urgency behind registration stems from the fact that the UK MHRA will be largely cut off from EU Competent Authority-level access to the new EUDAMED database and thus needs to build their own, must like the US FDA has with its Establishment Registration database. We'll provide more updates on this as they are released by MHRA.
---
Economic Operator Component of EUDAMED Database Goes Live
December 3, 2020
The long awaited European database of medical devices (EUDAMED) has finally arrived…or at least part of it. On December 1 the Economic Operator (actor) module launched and is the first of six modules within EUDAMED. Among other things this module will allow for the creation of unique Single Registration Numbers (SRN) referred to in Article 31(2). Once an "Economic Operator" enters their information into the system, it is verified and validated by a national Competent Authority. At that point an SRN is issued to the manufacturer, importer or EU authorized representative. This number is critical as it is used in all other modules in the system, and will be included on certificates. That's why it is the first module to be launched. Upcoming modules will include areas for device registration and UDI, Notified Bodies/certificates, clinical investigations/performance studies and vigilance/market surveillance. This FAQ is helpful as is this page. You can access the Economic Operator module of EUDAMED Know More
---
Complete List of EU MDR and IVDR Guidance Documents
Most recent update: August 20, 2021
The Medical Device Coordination Group (MDCG) has been busy issuing a flurry of guidance documents related to the application of the EU MDR and IVDR with many, many more expected to be released in 2021. We waded through them all and list (with PDF download links) which ones you need to pay attention to the most. Here's the latest list.
---
UK MHRA Outlines New Medical Device Registration Process Starting January 1, 2021
September 11, 2020
Brexit was rife with drama, in no small part due to the complexities surrounding what to do about the border between Northern Ireland (part of the UK) and Ireland (an EU member state). As a result, the relationship between the UK and EU has become increasingly fractious. The UK MHRA recently announced that they would not necessarily be adopting the EU Medical Device Regulation (2017/745) but would instead forge their own path starting in 2021. Medical device companies selling in the UK need to move quickly. Here's the latest.
---
Understanding EU MDR Clinical Evidence Required for "Legacy" Medical Devices
June 9, 2020
Ever since the release of MEDDEV 2.7-1 rev 4 in 2016 and the publication of the European Medical Device Regulation (EU MDR) in 2017, manufacturers have been coming to grips with the realization that their existing clinical data was not going to cut it in the new EU MDR paradigm. As existing Medical Device Directive (MDD) certificates begin to expire, many manufacturers of legacy medical devices are understandably nervous about how their existing clinical evidence (clinical data + clinical evaluation results) might be viewed during an upcoming MDR Notified Body audit. Now the Medical Device Coordination Group has published guidance document MDCG 2020-6 for manufacturers of legacy medical devices. The guidance provides additional clarity on clinical evidence issues that were not well defined in the EU MDR. We take a closer look at this guidance and explain the potential impact for you.
---
MDCG Issues Guidance About Medical Device Equivalence Under the EU MDR
June 25, 2020
If your medical device clinical evaluation relies on a comparison to an "equivalent" device, you may be wondering if your Notified Body would view your analysis as a true "apples to apples" comparison. Although the word "equivalent" seems clear, few words have created more angst in the context of EU Medical Device Regulation (EU MDR). This new guidance helps clear up the confusion. Know More.
---
What Notified Bodies Look for When Reviewing Your Medical Device Technical Documentation Under the EU MDR
May 13, 2020
If you've been involved in medical device regulatory affairs for 5+ years, you know all too well that the requirements around technical documentation associated with European CE Marking have tightened. The June 2016 release of guidance document MEDDEV 2.7-1 rev 4 on clinical evaluations gave many regulatory professionals heartburn and was followed by the May 2017 release of the European Medical Device Regulation (MDR 2017/745). Late 2019 saw the release of the updated ISO 14971 risk management standard and three IMDRF clinical guidance documents. So, now that the bar for technical documentation has been raised, it begs the question: What will EU Notified Bodies be looking for during your next technical documentation review? Our consulting team offers some insights.
---
EU MDR Gets Delayed Until 2021
April 23, 2020
The EU MDR Date of Application has been extended until May 2021. Most RA/QA professionals will welcome the extra compliance time gifted to them but should not ease up. Here's what you should consider doing now.
---
European Commission Issues COVID-19 Guidance for Medical Device and IVD Manufacturers
April 14, 2020
Regulators worldwide have been bombarded with questions from medical device and IVD companies wanting to help in the fight against COVID-19. The US FDA has been very proactive in issuing guidance documents intended to assist manufacturers. However, with dozens of individual Ministries of Health (Competent Authorities) in Europe, it's not surprising that the depth of information published for manufacturers related to COVID-19 has varied widely by country. Information is being published at such a furious pace that it often does not get translated into English as this example from Germany's BfArM illustrates.
As such, the European Commission has stepped in to provide some much-need basic guidance to medical device and IVD manufacturers with excess capacity who are interested in exporting medical equipment and PPE to specific European countries. If that describes your company read this blog post which provides links to two COVID-19 regulatory documents published by European authorities, plus a list of 30+ Competent Authority contacts you can contact directly. You may also find our COVID-19 resources page to be useful.
---
Understanding What Is Considered a "Significant" Change Under EU MDR Article 120(3) and MDCG 2020-3
March 23, 2020
Unless you were recently dropped off by an alien spaceship, you are well aware that the EU MDR imposes strict new requirements on medical device companies marketing their products in Europe. Many device companies have been scrambling to renew existing CE certificates granted under the Medical Devices Directive (MDD 93/42/EEC). Companies doing so need to be careful to make sure they do not make significant changes that would raise the ire of Notified Bodies and trigger a mandatory new EU MDR registration, or risk having to prematurely pull their product from the EU market. Using the MDR and new MDCG guidance, we help explain what might be considered a significant change.
---
Standoff Between EU and Switzerland Leads Swiss Medtech to Issue Pessimistic Warning to Device Manufacturers
February 11, 2020
Now that the UK is officially no longer part the European Union, medical device regulatory professionals are still dealing with regulatory uncertainties created by Brexit. Now, feuding lawyers in Switzerland and Brussels have created another potential headache for manufacturers. As of May 26, 2021, Switzerland may become a "third country" in the eyes of EU medical device regulators. Wait a minute, you say. Isn't Switzerland already an independent country and NOT a member of the EU? Ding, ding, ding—you are correct!  Â
Switzerland is not a member of the European Union. To harmonize market access and regulations for all manufacturers, Switzerland had long ago hammered out a Mutual Recognition Agreement (MRA) with the EU concerning the Medical Device Directive (MDD) that, for all practical purposes, allowed it to mirror EU medical device regulatory requirements. But here's the problem: The Swiss are actively working to transpose the EU Medical Device Regulation (as they did with the MDD) to update their existing Medical Devices Ordinance (MedDO). This change requires an update to the existing MRA. At the moment, the Swiss claim that EU lawyers are interpreting that MRA in the "most unfavorable way possible for Switzerland." The point is that unless the two sides can come to an understanding on the terms of the MRA, the EU will not officially recognize the updated MedDO law (which will mirror the MDR) when it goes into effect on May 26, 2021.
W
hat does
this
mean? Well, consider these scen
a
rios:
Â
Medical devices manufactured or refurbished in Switzerland would need to be

"

exported

" to the EU

and

appropriately

labeled as such

.

Â

Notified Bodies based in Switzerland (there is only one) would not be recognized by the EU, creating a massive headache for

any

manufacturer who utilize

s

them.

Â
In the near term, it seems unlikely that Switzerland would start blocking the importation of vital medical devices into the country after May 26, 2021. The Swiss are in the process of updating the MedDO, and without a doubt they will do everything in their power to negotiate a resolution to the MRA dispute. However, considering that this dispute has been festering for quite a long time, success is not assured by any stretch. Manufacturers—especially those based in Switzerland—should put contingency plans in place to deal with a potential disruption in EU market access.
---
European Commission Gives Class I Device Manufacturers an Early Holiday Gift…Sort Of
December 11, 2019
After an outcry from manufacturers, industry associations, Notified Bodies, and even Competent Authorities, the European Parliament has decided to postpone compliance with the new Medical Device Regulation (EU MDR) until 2024 for some Class I manufacturers.
With the May 2021 implementation deadline looming, manufacturers and Notified Bodies were under intense pressure to deal with the growing tsunami of medical device CE Mark applications. The EU Parliament wisely decided that manufacturers of reusable surgical instruments, those software devices already designated as Class I, and other Class I devices that were being "up-classified" under the EU MDR probably did not warrant the same level of regulatory urgency as Class IIb and III devices. Why didn't regulators foresee this overload years ago when they crafted the deadlines? Hmmm…
Alas, there's always a catch. The official postponement applies only to obtaining new CE certificates and NOT to the QMS requirements imposed under the EU MDR. This means that a manufacturer of Class I reusable instruments, for example, would have until May 2024 to assemble their technical documentation, but they still need to comply with all quality system requirements – including the implementation of postmarket surveillance, risk management, etc. – before the EU MDR goes into effect in late May 2021.Â
---
Whew! EC punts implementation of EUDAMED database to May 2022
November 25, 2019
If you study the 91-page "functional requirements" document published by the European Commission (EC) in February 2019, it's pretty easy to understand why someone finally came to their senses and realized that getting EUDAMED ready for prime time was not going to happen as quickly as they had hoped. Instead, the EC has wisely decided to defer the implementation date to coincide with the May 2022 implementation date of the IVDR. Don't you wish you could go to your boss and get a two-year extension to complete your projects? In this case we should all be happy.
---
EC publishes updated list of EU MDR and IVDR guidance documents planned or under development
November 25, 2019
In late October 2019, the Medical Device Coordination Group (MDCG) published a list of MDR and IVDR-related guidance documents that are planned or in the works. The list is welcome news for regulatory professionals who have been struggling with some of the nebulous nuances of the MDR and IVDR, especially as it relates to clinical issues and PMS. Here's a high-level summary of the MDCG priorities.
Notified Body (NB) Oversight
How NBs will handle sampling of devices, batch verification of Class D IVDs, evaluation of "significant changes,"and more.
Clinical Investigations and Evaluation
Lots happening here. New guidance will be developed/revised related to determining equivalence during clinical evaluation, clinical evidence needed for legacy devices, plus various templates, report forms and applications related to clinical evaluation and investigation, PMCF and adverse events.
Post-Market Surveillance, Vigilance and Market Surveillance
Expect to see MDR and IVDR guidance related to post-market surveillance and vigilance requirements, plus the development of harmonized forms for incident reporting. Also, new and updated guidance related to Class I medical device manufacturers, plus information related to Authorized Representatives, in-house manufacturers and an update of the PRRC document.
Borderline and Classification Issues
Clarity on devices with medicinal component and guidance on classification under the MDR.
New Technologies, UDI, International Issues, IVDs, Nomenclature and Annex XVI
Guidance on software cybersecurity and clinical evaluation, integration of UDI into a manufacturer QMS, formats for parts of the UDI carriers, notified bodies' considerations for MDSAP, classification, Summary of Safety and Performance (SSP) template, and performance evaluation of IVDs, EMDN release, and qualification of devices under Annex XVI.
---
IMDRF releases three long-awaited clinical evaluation guidance documents
November 25, 2019
The International Medical Device Regulators Forum released updated documents on clinical evaluation, clinical investigation and clinical evidence. Previous versions were released in 2007 and 2010. The trio provides some much-needed clarity on issues that have befuddled medical device regulatory and clinical professionals since the release of the MDR and MEDDEV 2.7/1 rev 4. We dive into the changes in all three in this article.
---
DEKRA becomes first EU Notified Body to get designated under the MDR and IVDR
October 23, 2019
While DEKRA Certification was not the first Notified Body to get designated under the MDR (that honor goes to BSI), they did recently recently earn IVDR designation, making them the first Notified Body to hold both designations. DEKRA becomes the first in what industry observers hope will soon become a growing list of Notified Bodies pursuing IVDR designation. See which Notified Bodies have been designated to the MDR and IVDR so far.
---
BIOTRONIK Obtains First Class III Certification Under the EU MDR
October 16, 2019
BIOTRONIK, a German medtech company that develops cardiovascular and endovascular solutions, became the first company to get CE Marking certification for a high-risk medical device under the European Medical Device Regulation 2017/745. With just 7 months remaining until the MDR goes into effect, it's the first (for a Class III device) of what will surely become a tidal wave of certification announcements from companies worldwide.
---
New Guidance MDCG 2019-7Â Clarifies Role of the EU Person Responsible for Regulatory Compliance (PRRC)
July 1, 2019
You may have heard about a new role called the Person Responsible for Regulatory Compliance as defined in the new EU MDR and IVDR. Many people have asked us what this new role entails and who needs to comply. The Medical Device Coordination Group (MDCG) recent issued a new guidance document that helps clarify some points that were confusing to many manufacturers. We examined the nuts and bolts of this new requirement and the associated guidance document. Here's what you need to know. Read more
---
The European Commission Has Chosen Four Entities That Will Assign Product UDIs
June 10, 2019
Unique Device Identifiers (UDIs) are not unique to the medical device industry. The US FDA has been slowly requiring different risk classes to be UDI-compliant, with a target to have all devices direct marked by September 2022. Europe followed FDA's lead and will require UDI as part of the MDR rollout. What had not been worked out (until now) is who will administer the codes. We now know that GS1 will be one of the four issuing entities, along with HIBCC, ICCBA, and IFA. (Apparently, applicants with company names that are not acronyms were excluded.) The applicants are now authorized to issue and manage UDI codes until June 27, 2024, after which they can apply for another 5-year contract renewal. Read about the implementing decision on the EU website.
---
European Commission Releases Updated MDR and IVDR Implementation Plan
June 5, 2019
The publication of the Medical Device Regulation (2017/745) in May 2017 represented the culmination of many years of work by a wide array of stakeholders. Yet, as with any major change in legislation, new questions arise that were not addressed in the final published regulation. Those questions will get answered over time through implementing acts, actions, and guidance documents before and after the May 2021 implementation deadline.
The Excel document published by the Commission is a mostly a project roadmap, the kind of document any manager would create to keep track of many moving parts in a very large project. Here are a few of the more interesting upcoming releases:
Reprocessing of single-use medical devices – This will be an implementing act defining risk management, validation, design control, incident reporting, and traceability, among other things. See row 6 of the spreadsheet. Due for release in November 2019.
Products without a medical purpose – Common examples include contact lenses, brain stimulation devices, and liposuction equipment. The Commission is planning to release an implementing act addressing these devices in Q1 2020 (see row 7 of the spreadsheet).
Expert panels – This will also be an implementing act intended to start the process of choosing qualified experts to serve on these panels. The focus is on high-risk devices (see row 8 of the spreadsheet).
There are many other tasks scheduled related to medical devices and IVDs. Download the spreadsheet and have a look.
---
If You Outsource Manufacturing, Who Is Considered the Legal Manufacturer?
May 1, 2019
With the publication of Europe's new Medical Device Regulation (EU 2017/745) and In Vitro Diagnostic Regulation (EU 2017/746), some companies that contract manufacture or relabel devices (OBL/PBL) are wondering if they will be considered the "legal manufacturer" of the device they sell. Much of the confusion around this issue stems from the assumption that there can be only one legal manufacturer. The current Medical Devices Directive (MDD 93/42/EEC) and In Vitro Devices Directive (IVDD 98/79/EC) are somewhat murky on the issue, but their successors (MDR and IVDR) make it crystal clear: One device can potentially have multiple legal manufacturers, and each one of these manufacturers may have regulatory responsibility for that device. Know more.
---
EU MDR 2017/745 Implementation Timelines
February 21, 2019
If you have been looking at your upcoming device certification renewal dates or pondering a new product introduction, you may be perplexed about the timelines for MDR implementation and how to proceed. You are not alone. In this blog post we answer a few common questions our EU MDR consultants are hearing from our customers related to grandfathered devices, design changes, up-classification, and what happens to MDD-certified devices in distribution after 2020. Know more
---
Your European Medical Device Importers and Distributors Have New Regulatory Responsibilities Under Articles 13 and 14 of the EU MDR
November 2, 2018
When the European Medical Device Regulation (2017/745) was published in 2017, few medical device importers and distributors were aware of the new requirements that would be placed on them. Most of the compliance focus under the Medical Devices Directive (MDD 93/42/EEC) was squarely centered on manufacturers. In fact, the word "importer" appears only three times in the entire MDD and the word "distributor" does not appear at all! The EU MDR, however, elevates the importance of all economic operators, and "importer" and "distributor" appear dozens of times throughout the regulation. That should tell you something about how EU regulators now view the importance of the supply chain through the entire life cycle of the device. Manufacturers and their associated economic operators need to understand the new European MDR requirements that take effect in May 2021. Know more
---
Regulating Virtual Manufacturers: What OBL and PBL Private Labelers Need to Know About the MDR
October 23, 2018Â
Most companies in the business of private labeling medical devices for sale in the EU are painfully aware that the new EU Medical Device Regulation (2017/745) is about to make their life a lot harder. But in case you were not aware, we'll break the bad news: EU private labeling is having chest pains and is in the ambulance headed for the hospital. The prognosis is uncertain. Know moreÂ
---
Overview of Medical Device Periodic Safety Update Reports (PSUR) and Post Market Surveillance Reports (PMSR)
October 2, 2018
One of the curiosities of the new European Medical Device Regulation (MDR) EU 2017/745 is the requirement to prepare Medical Device Periodic Safety Update Reports (PSUR) and Post Market Surveillance Reports (PMSR). While the PSUR is not new to the pharma world, it is a fairly new concept to medical devices. It should be noted that PSUR and PMSR are new requirements under the completely revised postmarket surveillance activities defined by the MDR. Know moreÂ
---
How "Equivalent" Does a Medical Device Need to Be Under the New EU MDR and MEDDEV 2.7/1 rev 4?
July 2, 2018
While there are several new requirements related to CER content contained in MEDDEV 2.7/1 rev 4 and the MDR, one of the more perplexing issues concerns "equivalency." Companies selling devices compliant with 93/42/EEC have long used existing scientific literature and equivalent device statements in their CERs. The purpose of doing so is to avoid having to conduct redundant pre- or postmarket clinical studies that prove safety and performance. However, the very definition of "equivalent" was not specified in the Medical Devices Directive (93/42/EEC), leaving much room for interpretation. Under the MDR, there is clear text now stating that clinical data being leveraged by an organization must be for an equivalent or similar device. While the MDR does not define parameters for determining equivalence, the guidance document MEDDEV 2.7/1 rev 4 has distinctly identified criteria for evaluation of an equivalent device to be used as clinical evidence. Know moreÂ
---
What Does "State of the Art" Actually Mean in the EU's Medical Device Regulation?
May 8, 2018, Updated June 2020
Most of us think of "state of the art" as describing the latest and most sophisticated or advanced stage of a technology. For example, most people would consider a solar-powered pacemaker to be state of the art. (Don't hold your breath for this one to come to market.) Yet, this notion of state of the art isn't what is meant in the context of the EU MDR and risk management. As such, manufacturers often face challenges in assessing state of the art in design and postmarket surveillance. Read moreÂ
---
Table of Contents for the EU MDR 2017/745
March 15, 2018
If you have downloaded the 175-page European Medical Device Regulation PDF but are frustrated that it does not contain a Table of Contents, Oriel STAT A MATRIX has come to your rescue. We have taken the official MDR regulation as published on May 5, 2017 and added a very easy-to-navigate MDR Table of Contents – all in one single PDF. Know more
Get answers right now. Call

US OfficeWashington DC
EU OfficeCork, Ireland