Health Canada Realizes That MDSAP Audit Deadlines Are a Burden for Manufacturers. Here's How They Are Helping.
April 16, 2018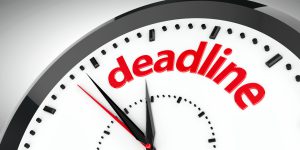 The Medical Device Single Audit Program (MDSAP) implementation date seemed light years away when it was first announced in late 2013. But with a January 1, 2019 deadline looming, officials at Health Canada are hearing that many manufacturers simply won't be ready in time or, even worse, have decided that the cost and hassle of dealing with MDSAP isn't worth the effort to sell in Canada.
Cognizant of the challenges faced by industry, officials are trying to help…kind of.
Health Canada is offering a grace period for ISO 13485 certificates
On October 31, 2017, Health Canada announced a 10-20% reduction in audit time for companies with 45 or fewer employees. This came in response to an outcry from smaller manufacturers who bemoaned the lengthy audit times proposed as part of the program.
While the October 31 announcement extended a small olive branch to industry, apparently there is another problem that surprises nobody: it's becoming harder to schedule MDSAP audits, let alone get actual MDSAP certificates by the end of 2018. In response, Health Canada has now stated that manufacturers that have NOT secured and uploaded their MDSAP certificate by December 31, 2018 (the deadline) may continue to sell in Canada after that date assuming they are:
Hold an ISO 13485 certificate issued issued under CMDCAS and valid past December 31, 2018, and

Hold a non-CMDCAS ISO 13485 certificate issued by an MDSAP Auditing Organization (example: Health Canada, Australia TGA) valid past January 1, 2019, and
Can show documented evidence that they have arranged to undergo an initial MDSAP audit in 2019.
This applies to companies that have undergone an ISO 13485 recertification audit under CMDCAS after January 1, 2016.
Here's a hypothetical example.
A medical device manufacturer with ISO 13485:2016 certification tries to schedule an MDSAP audit for October 2018, but finds their Auditing Organization (AO) can't conduct the audit until February 2019. The manufacturer will not get their physical MDSAP certificate until a few months after that. In this case, if the manufacturer can demonstrate (before December 31) that they have made arrangements (as noted above)  to get the audit done in February, they will be allowed to continue selling in Canada past January 1, 2019. Please note that the notification must in the form of a letter from your Auditing Organization and submitted along with this form. No, showing an email to your Auditing Organization asking to schedule an MDSAP audit is not good enough.
Of course, companies holding ISO 13485:2003 certificates will still have to make the transition to ISO 13485:2016 by March 1, 2019, when the 2003 version will formally be withdrawn.
This means that while companies holding a current and valid certificate can continue selling, those whose certificates are for ISO 13485:2003 are really getting only 2 months of reprieve. Also, keep in mind that ISO 13485:2016 certification does not automatically grant you MDSAP certification.
No, you can't put off your MDSAP audit…
With this announcement, it's important to realize that Health Canada is not delaying the implementation of the Medical Device Single Audit Program.
To sell beyond the January 1, 2019 implementation deadline, you will need to demonstrate that you have undergone an MDSAP surveillance audit or have made arrangements to do so. The newly announced reprieve just gives companies a little more time to schedule with an MDSAP AO and secure a certificate. But don't delay. Many AOs are refusing to schedule certification audits unless you can demonstrate that you have first performed your own MDSAP internal mock audit. We can help you conduct this MDSAP preassessment audit. You may also find our intensive 2-day MDSAP training course to be extremely beneficial. It's one of our most popular classes and sessions tend to fill up quickly.
By the way, you can offer your input on MDSAP processes to Health Canada through their online survey.