Dec 04, 2022
Glossary of Medical Device, IVD, and Pharma Regulatory Terms and Acronyms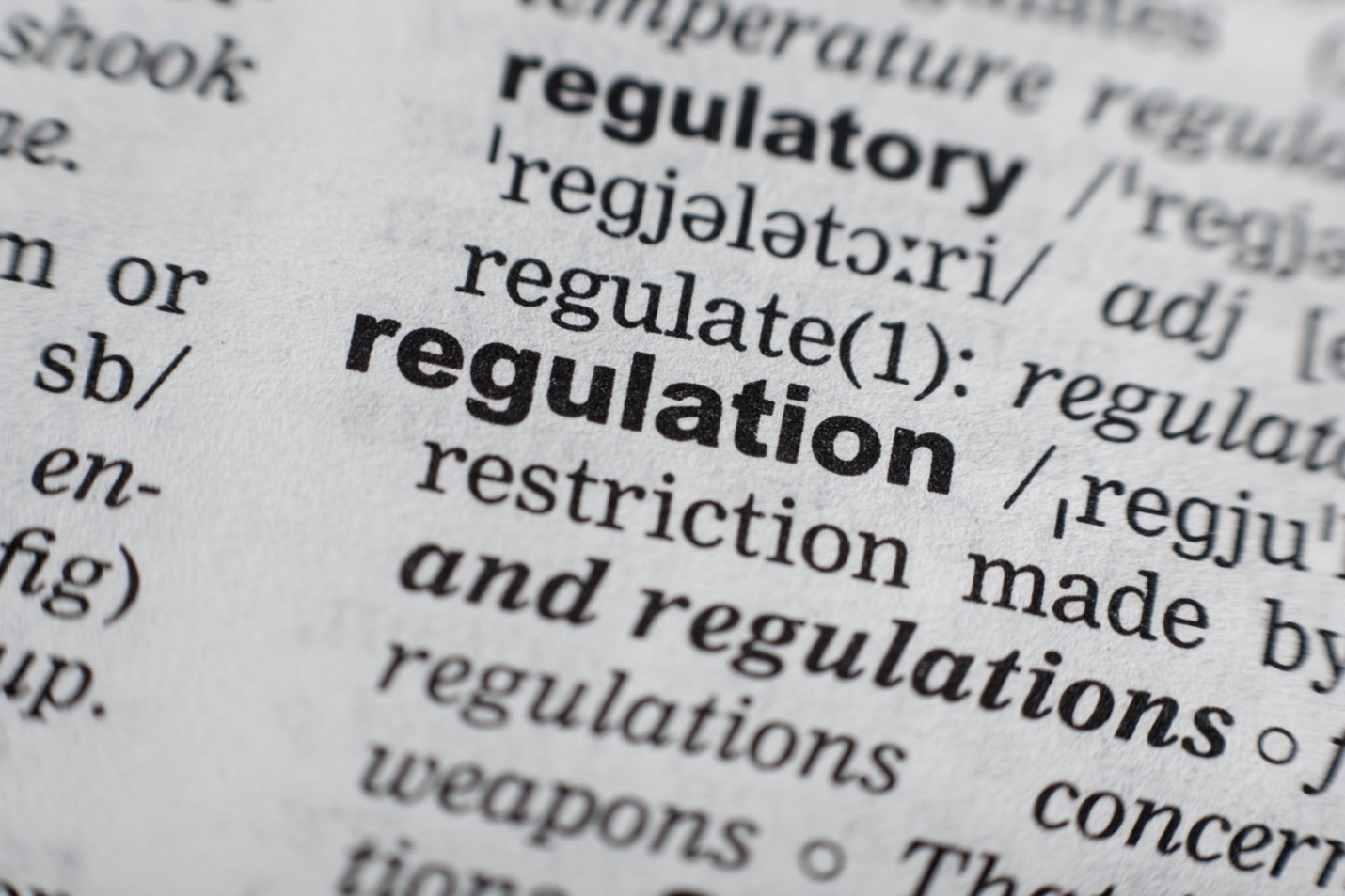 Like many highly regulated industries, the medical device and pharma industries have plenty of acronyms and lingo to learn. Here's a list of some of the most common words you will encounter.
Skip to: A | B | C | D | E | F | G | H | I | J | K | L | M | N | O | P | Q | R | S | T | U | V | W | X | Y | Z
---
Annex ‒ Sections that provide more detailed information for meeting the requirements described in the accompanying European Union (EU) regulation.
Article – A regulatory requirement defined in a regulation that details what must be accomplished, implemented, or met to ensure conformity to European requirements.
Auditing organization (AO) ‒ A third party that performs product certification and quality management system audits of medical device and in vitro diagnostics (IVD) manufacturers.
Authorized representative (AR) ‒ An entity with a registered office in the European Union appointed to act on behalf of a non-EU manufacturer to perform specific regulatory compliance tasks. Also known as an "EC REP" due to the symbol manufacturers might use to identify them on labeling.
---
Borderline products – Those products that may be regulated by one or more European agencies or may require designation by which (a) a product would be regulated and (b) under which directive or regulation.
---
Center for Biologics Evaluation Research (CBER) – A branch within US FDA that regulates biologic products and their manufacturers.
Center for Devices and Radiological Health (CDRH) – A branch within US FDA that regulates medical devices and IVD devices.
Center for Drug Evaluation Research (CDER) – A branch within US FDA that regulates pharmaceutical products and their manufacturers.
CE certificate – A document issued by a European Notified Body that validates the placing of medical devices or IVDs on the European market. These are valid for 5 years.
CE Marking (CE Mark) – A certification mark applied to medical device and IVD products sold in Europe that indicates the product is in compliance with the appropriate regulations. CE is the French acronym for conformité Européenne, meaning "European conformity."
Clinical evaluation report (CER) – Detailed compilation of all safety evaluations, performance evaluations, and comparisons to similar products. The CER includes clinical literature references, clinical investigations, and / or clinical follow-up activities.
Clinical investigation – An independent study approved by an ethics committee with a medical device, IVD, drug, or biologic that is not yet approved or allowed to be used on humans. Also referred to as a "clinical study" or "clinical trial."
Common specifications – A set of technical and / or clinical requirements, other than a standard, that provides a way to comply with the legal obligations related to a device.
Competent Authority (CA) – In most cases, a general term used in Europe to describe a National Ministry of Health. Competent Authorities oversee Conformity Assessment Bodies (Notified Bodies) located in their respective countries.
Conformity assessment ‒ The process for demonstrating that a device has met the regulatory requirements to be marketed in the EU. These assessments are performed by Notified Bodies.
Conformity assessment routes ‒ The available pathways to demonstrate that a device has met the regulatory requirements to be placed on the market in the EU. Generally determined by device classification.
Corrective and preventive action (CAPA) – A methodology of investigating a problem and taking appropriate corrective or preventive action to ensure it doesn't happen again.
Current Good Manufacturing Practice (cGMP) – FDA regulations that govern the design, monitoring, and control of pharmaceutical manufacturing processes and facilities.
---
Declaration of conformity – Document created by the manufacturer providing information about how specified products achieve conformity with European regulatory requirements.
Design dossier – Compilation and summary of all clinical and performance data for a high-risk medical device.
Design history file (DHF) – Compilation of documents (or reference to them) showing the entire engineering design history of a medical device, including software.
Device history record (DHR) – Includes the date of manufacturing, how many were manufactured, how many were released for distribution, acceptance records, labeling, and unique device identification (UDI).
Device identifier (DI) ‒ A numeric code that identifies the labeler, model number, and version of a specific medical device. It's one of two numbers that make the UDI code.
Design master record (DMR) – Includes references to device and production process specifications; quality assurance procedures; packaging and labeling specifications; and installation, maintenance, and servicing procedures.
Directive ‒ An EU-wide legal act that requires all Member States (countries) to incorporate the directive into their national law. By comparison, a regulation applies to all Member States immediately. Example: The Medical Device Regulation (2017/745) replaced the Medical Device Directive (93/52/EEC).
Distributor ‒ An entity in the supply chain, other than the manufacturer or the importer, that makes a device available on the EU market, up until the point of putting it into service.
---
EC declaration of conformity – A document prepared by the manufacturer providing information about how the device meets applicable regulatory requirements.
Economic operator (EO) ‒ Manufacturers, authorized representatives, importers, and distributors are all considered EOs in Europe.
Essential requirements ‒ The former term for what is now referred to as "General Safety and Performance Requirements" in the Medical Device Regulation.
EUDAMED – A comprehensive database of health and safety information for all medical devices and IVDs authorized for sale in the European Union. It is maintained by the European Commission and accessible to national Competent Authorities, Notified Bodies, and the public.
Europe Free Trade Association (EFTA) ‒ An intergovernmental organization consisting of Iceland, Liechtenstein, Norway, and Switzerland, four countries that are NOT members of the European Union.
European Commission (EC) ‒ The entity in the EU that proposes legislation that is adopted by the EU Parliament and Council.
European Economic Area (EEA) ‒ A market that combines the EU Member States and the three EEA states (Iceland, Liechtenstein, and Norway). Switzerland is not a member of the EEA or the EU.
European Union (EU) ‒ An economic and political union of 27 countries (Member States) in Europe.
---
FDA 483 or Form 483 (formally known as a "Notice of Inspectional Observations") – A form that can be issued by US Food and Drug Administration following an inspection of a facility if an investigator(s) has observed any conditions that in their judgment may constitute violations of the Food, Drug, and Cosmetic (FD&C) Act and related acts.
FDA 510(k) – Formally known as an "FDA Premarket Notification," this is the primary regulatory pathway most Class II medical devices pursue in the US.
Food and Drug Administration (FDA) – Primary regulator of medical devices, in vitro diagnostics, pharmaceuticals, and biologics in the United States. Several other countries also have ministries of health called FDA.
---
General Safety and Performance Requirements (GSPRs) – The requirements related to device safety and performance found in Annex I of the Medical Device Regulation. Formerly called the "Essential Requirements."
Global Harmonization Task Force (GHTF) – Former name of the International Medical Device Regulators Forum (IMDRF).
Global Medical Device Nomenclature (GMDN) ‒ A system of generic descriptors that identifies all medical devices.
Good clinical practice (GCP) – Basic international standards that must be followed when conducting clinical trials that involve human subjects.
Good distribution practice (GDP) – Establishes minimum standards distributors must meet to ensure safe storage and dissemination of devices, IVDs, and drugs.
---
Importer ‒ An entity responsible for confirming that a device is in compliance with EU regulations before the device is placed on the European market. Despite the name, the importer does not necessarily handle the device itself and may not be the distributor. Its name must appear in device labeling along with the authorized representative.
Institutional Review Board (IRB) – Group formally designated by FDA to review human biomedical research to ensure the welfare and rights of the human research subjects.
International Medical Device Regulators Forum (IMDRF) – Volunteer group of regulators from around the world who work together to promote harmonization of medical device regulations. Formerly known as the "Global Harmonization Task Force" (GHTF).
Investigational device exemption (IDE) – Granted by FDA, an IDE allows a medical device to be used in a US clinical study.
In vitro diagnostics (IVD) – Tests that analyze samples taken from the human body, most commonly blood, urine, tissue, and fecal samples. For example, a COVID test is an IVD test.
In Vitro Diagnostics Regulation (IVDR) – The In Vitro Diagnostics Regulation (2017/746) went into effect May 2022 and covers all IVDs sold in the European Union. Legacy IVDs must fully comply by May 2027.
ISO 13485 – International quality management system (QMS) standard used by device companies around the world to meet regulatory requirements.
ISO 14971 – International risk management standard for medical devices.
Issuing agency (IA) – Independent organization that assigns a unique number sequence for a manufacturer and its product type or version. This is for unique device identification (UDI) purposes.
---
Manufacturer ‒ An entity that makes or fully refurbishes a device – or has a device designed, manufactured, or fully refurbished – and markets the device under its name or trademark.
Medical Device Coordination Group (MDCG) ‒ A committee made up of medical device experts that are appointed by the European Commission. The MDCG publishes a variety of guidance documents used to help manufacturers and Notified Bodies clarify various aspects of the Medical Device Regulation (MDR) and In Vitro Diagnostics Regulation (IVDR).
Medical Device Regulation (MDR) – European regulation 2017/745 went into effect May 2021, and covers all devices sold in the EU. Legacy devices must fully comply by May 2024.
Medical Device Single Audit Program (MDSAP) – Program that allows manufacturers to submit to a single audit that satisfies the quality system requirements of Australia, Brazil, Canada, Japan, and the US. Mandatory only in Canada.
Medicine and Healthcare Products Regulatory Agency (MHRA) – Primary regulator of medical device, IT, and pharmaceutical products in the United Kingdom.
Member States – Term used in Europe to describe individual countries that are members of the European Union. Countries such as the United Kingdom, Switzerland, and Norway are not considered Member States.
---
Non-product software (NPS) – Term used to describe quality system or production software that is not part of the medical device itself.
Notified Body (NB) – Organizations authorized by a European Competent Authority to conduct audits of medical device companies and issue CE Marking (product) and ISO 13485 (quality management system) certificates.
---
Performance evaluation report (PER) ‒ In the context of in vitro diagnostic devices, a report that assesses all performance-related evaluation reports. Similar to a clinical evaluation report used for medical devices.
Periodic safety update report (PSUR) ‒ Applicable to moderate- and high-risk medical devices and IVDs, the PSUR is a summary of postmarket surveillance (PMS) data that will be reviewed by a Notified Body or Competent Authority.
Postmarket clinical follow-up (PMCF) – Part of the postmarket surveillance process, PMCF looks at the clinical performance of a device after its market release and can include additional clinical studies.
Postmarket surveillance (PMS) ‒ Activities carried out by manufacturers to proactively collect and review experience gained from devices they placed on the market so they can apply any necessary corrective or preventive actions (CAPAs).
Postmarket surveillance report (PMSR) – After analysis of postmarket surveillance data, manufacturers must compile a PMSR to summarize results and conclusions. This applies to low-risk medical devices and IVDs.
Premarket approval (PMA) – US FDA term used to describe Class III high-risk medical devices that have been approved for sale in the United States.
Production identifier (PI) ‒ A dynamic code that provides access to specific production-related information, such as the lot / batch numbers. See unique device identification (UDI).
---
Quality Management System Regulation (QMSR) – Proposed by US FDA as the replacement for the current Quality System Regulation (21 CFR Part 820). The QMSR will closely track ISO 13485 and is intended to provide more quality management system (QMS) harmonization for manufacturers.
Quality System Inspection Technique (QSIT) – Technique used by US FDA to assess manufacturer compliance with the Quality System Regulation.
Quality System Regulation (QSR) – The current QMS regulation applicable to medical device manufacturers, also known as 21 CFR Part 820.
---
Regulation ‒ A legal act of the EU that becomes law in all Member States at the same time. Compare to a Directive.
Research use only (RUO) – In vitro diagnostic devices that do not have FDA clearance or approval but have been authorized by FDA to be used in research settings. Many RUO devices seek an investigational device exemption (IDE) from FDA.
---
Single Registration Number (SRN) – This is a singular unique identification number assigned to each economic operator when registered in the EUDAMED system.
Software as a medical device (SaMD) – Stand-alone software not associated with any physical device and thus qualifies as its own medical device.
Software bill of materials (SBOM) – Standardized listing of all software components included in a medical device.
Software in a medical device (SiMD) – Software that is incorporated into a physical medical device.
Substantially equivalent (SE) – A term used by US FDA to describe a medical device that has similar intended use, indications for use, and performance characteristics of a device that already has FDA 510(k) clearance or premarket approval (PMA).
Summary Technical Document (STED) – Format developed by the Global Harmonization Task Force (now IMDRF) to encourage standardization of regulatory submissions in different countries around the world.
---
Technical documentation ‒ A collection of documents that describe the device and how it meets the European General Safety and Performance Requirements (GSPRs). Formerly referred to as a "technical file."
Traceability ‒ The ability to identify and track a specific device through distribution and use.
---
Unique device identification (UDI) ‒ A barcode and number sequence consisting of two parts: the device identifier (DI) and the production identifier (PI). The UDI is used to identify medical devices and IVDs.
Unit of use (UoU) – This is the smallest level of packaging for a device or the actual device that users would have. This can be referred to as a "unit of one" that is the subject device.
United Kingdom Conformity Assessment (UKCA) Mark – Medical devices that meet Medicine and Healthcare Products Regulatory Agency (MHRA) requirements for compliance with UK regulations. Applicable in England, Wales, Scotland, and Northern Ireland. Similar to the CE Mark.
United Kingdom responsible person (UKRP) – Manufacturers without a registered office in the United Kingdom need to appoint a UKRP to represent them locally. This regulatory role is roughly equivalent to the European authorized representative.
---
Z Annexes – Those annexes as part of an EN ISO standard that describe any deviations that are to be met between the international standard and the European requirements defined by directives or regulations.
Get answers right now. Call

US OfficeWashington DC
EU OfficeCork, Ireland