What Happens When FDA Ends Medical Device and IVD Emergency Use Authorizations (EUAs)?
March 22, 2022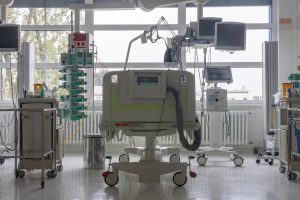 Throughout the spring and summer of 2020, there was a mad rush to get ventilators, COVID-19 tests, masks, and personal protective gear on the market as quickly as possible. The existing supply of FDA-cleared / -approved devices and in vitro diagnostics (IVDs) could not come close to filling the need, so FDA granted emergency use authorizations (EUAs) for dozens of products. Established medical device manufacturers jumped in to fill the void but so did companies that had no previous experience making medical products – and thus little understanding of FDA regulations.
Now that the supply of EUA-approved devices and IVD tests is relatively stable, FDA is preparing industry for an eventual phased process of ending EUAs and enforcement policies. Depending upon the product type, the agency will ask manufacturers to send submissions for normal FDA review and compliance with the FDA Quality System Regulation (21 CFR Part 820). FDA is smartly trying to roll this out in a way that doesn't create new supply shortages.
To help avoid a repeat of the massive supply chain challenges presented by COVID-19, the Center for Devices and Radiological Health (CDRH) is seeking more statutory authority to compel manufacturers to notify CDRH if there is a potential device shortage.

In December 2021, FDA issued two draft guidance documents intended to clarify next steps for manufacturers that have placed medical devices or IVDs on the US market under EUA, and also explain what happens when the EUA for a device is terminated:
These guidance documents are not yet final, but manufacturers marketing devices under an EUA should get a head start on following FDA's recommendations. We have highlighted a few of those reasons in the following paragraphs. Pages 7-9 of the second guidance document contain links to more guidance documents related to specific devices.
Quick Summary of What the FDA EUA Guidance Documents Say
FDA intends to terminate EUAs in an orderly manner so they do not inadvertently create new supply chaos. Here's how that will work:
1 – Once FDA decides to terminate the EUA for a specific device, they will publish their intent in the Federal Register.
2 – If the manufacturer intends to continue selling the device, it will have 180 days to obtain proof that a valid 510(k), De Novo, premarket approval (PMA), etc., is currently under consideration by FDA.
3 – If the manufacturer intends to discontinue selling the device, it should send FDA a Letter of Intent to withdraw its device well before the end of the EUA termination period.
4 – Devices / manufacturers not compliant with FDA regulations within 180 days of FDA EUA termination will need to relabel their devices appropriately.
5 – If the EUA period has ended and the manufacturer receives a rejection of their marketing application thereafter, they must immediately cease selling the device.
More on all of this below.
Don't Wait Until FDA Withdraws the EUA for Your Device
FDA recognizes that some companies that jumped in to supply certain devices during the early days of the pandemic had no previous experience working with FDA compliance regulations. As such, the guidance recommends that manufacturers consider the following phases to achieve enforcement compliance:
Phase 1 – The first phase starts when FDA publishes the FDA withdrawal in the Federal Register, at which point FDA expects manufacturers to comply with 21 CFR Part 803 on medical device reporting.
Phase 2 – By day 90 after the EUA withdrawal, FDA expects manufacturers to be in compliance with 21 CFR Part 806 and Subparts B, C, and D of 21 CFR Part 807.
Phase 3 – Finally, after 180 days, manufacturers are expected to be in full compliance with FDA regulations. Exceptions do apply; you can read more about those in the guidance documents.
For Manufacturers That Plan to End Distribution When the EUA Is Terminated
Many manufacturers will evaluate the fees and effort associated with obtaining a US marketing authorization and decide to cease selling the device once an affected enforcement policy is withdrawn and the EUA is terminated. For them, it is a simple analysis of projected demand for their device post-COVID-19 with the costs to maintain FDA compliance. However, FDA has indicated that it's not enough to simply discontinue selling the product and walk away. Instead, FDA wants to have a good sense of products in the market now and which products are being withdrawn. For example, if 50% of the companies making KN95 masks under an EUA decide it is not worth making them any longer, this could cause a critical supply shortage later if a new variant of COVID-19 were to arise.
Products on the Market After EUA Termination
So, what happens to products distributed under an EUA or enforcement policy that are already out in the market? FDA has indicated that certain products can continue to be sold in the marketplace after the EUA is terminated. Such products include:
Single-use devices (e.g., face masks) already in distribution can continue to be used up by consumers.
Reusable lower-risk devices (e.g., remote patient monitoring) must have publicly available labeling (e.g., a website) that says the product does not have FDA clearance or approval.
Reusable higher-risk devices (e.g., ventilators) must have publicly available labeling (e.g., a website) and physical labeling that says the product does not have FDA clearance or approval.
IVDs can remain in distribution for 2 years after the EUA termination date.
Getting FDA Clearance / Approval for Your Medical Device
If you've decided to continue selling your product after the EUA is terminated and you have never prepared an FDA submission, a smart move is to participate in FDA's Q-Submission / Pre-Submission Program to discuss your questions with FDA reviewers. (You can find more information on that here.)
Unless you are making ventilators or another high-risk Class III device, the FDA 510(k) regulatory pathway is most used. It applies to most Class II devices and is based on comparing the device being submitted with another similar device already cleared by FDA. These are called "predicate devices" and you can search for already-cleared devices on the FDA 510(k) database. What happens if your device has received FDA EUA, but you can't find a suitable predicate on the FDA product database? This is true for many antigen tests. In this case, you may need to file an application by which FDA evaluates the data on your device and decides whether your device is Class I or Class II.
FDA understands that certain lifesaving equipment will require a longer timeframe for approval, and thus FDA would really like to hear from manufacturers of these devices that have EUA, so that they can appropriately plan resources to help the manufacturer gain approval in a speedy manner. This kind of equipment includes certain anesthesia machines, portable oxygen generators, ventilators, and tubing connectors.
Again, FDA has stated that it doesn't intend to object to the continued distribution of devices after an EUA termination if the manufacturer has submitted a marketing submission to FDA before that date and the review is in process.
What's Next?
It's important to remember that this is draft guidance. It has yet to be finalized and it won't take effect before the national public health emergency (PHE) is declared to be over. Still, if you are selling your device under an EUA and that device is considered Class I or II, you should plan on at least 12 to 18 months to get into full compliance with FDA's Quality System Regulation (QSR) and have your 510(k) submission (Class II devices) cleared by FDA. If you are going for premarket approval (PMA) of a Class III device or you are selling antigen tests that have no predicate devices, plan on compliance taking much longer. However, you don't have to go it alone. Oriel STAT A MATRIX can help you get into full compliance with FDA QSR, train your team, and get you ready to submit your 510(k) or PMA submission.