Surprise! All Class 1 Medical Device Manufacturers Must Meet These Specific EU MDR Requirements
March 5, 2021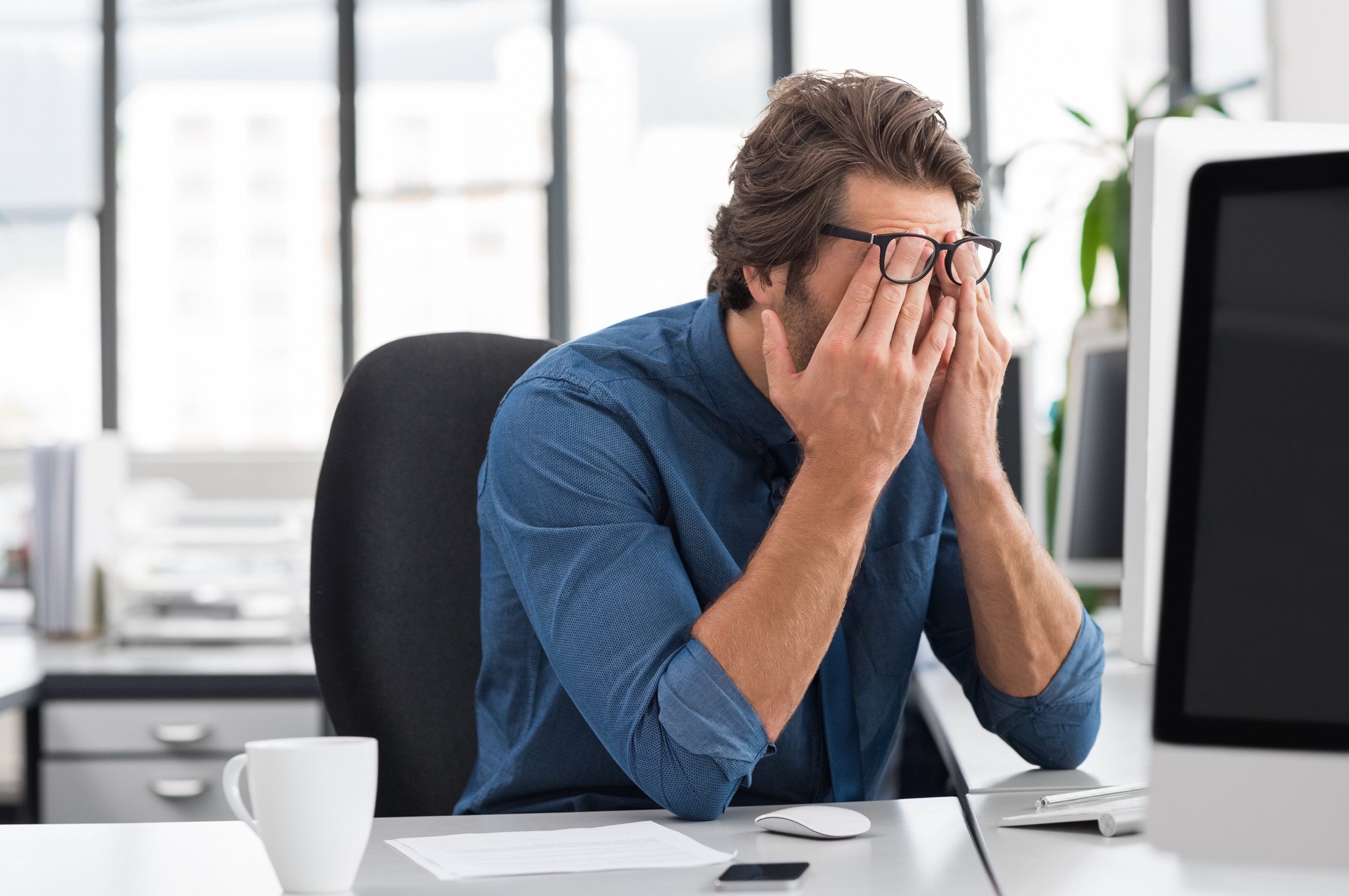 You may have read two seemingly conflicting bits of information about the European Medical Device Regulation (2017/745 MDR):
1. The deadline for certain Class I manufacturers to comply with the MDR was extended until May 2024. (TRUE) and…
2. All Class I manufacturers still need to comply with certain parts of the MDR starting in May 2021 (TRUE)
Confusing right?
In this article, we will break down the basic MDR requirements applicable to specific Class I devices, regardless of whether you are continuing to market those devices under valid Medical Devices Directive (93/42/EEC) certificates. We will make references to MDGC 2019-15 rev 1, so take a moment to download that guidance document. Also get this copy of the MDR which includes an extremely useful linked table of contents.
Confirm that your device classification has not changed
First things first. Under the MDD there were only two basic categories of Class 1 devices: general Class I and Class I Measuring/Sterile. The European Medical Device Regulation (2017/745) separates maintains a general (self-declared) Class I category but separates Class I Sterile and Measuring devices and creates a new subclass for Reusable Surgical Instruments as shown below.
General Class I (self-declare)
Class Im (notified body review of measurement aspects)
Class Is (notified body review of sterile aspects)
Class Ir (notified body review of reusable aspects)
All Class I sterile and measuring devices, plus reusable surgical instruments, will now requirement Notified Body review. Also, if you sell software that was previously a Class I device under the MDD, read Rule 11 of the MDR as the classification may have changed.
And remember Article 120 Transitional Provisions apply to all devices regardless of class or EC certificate expiration.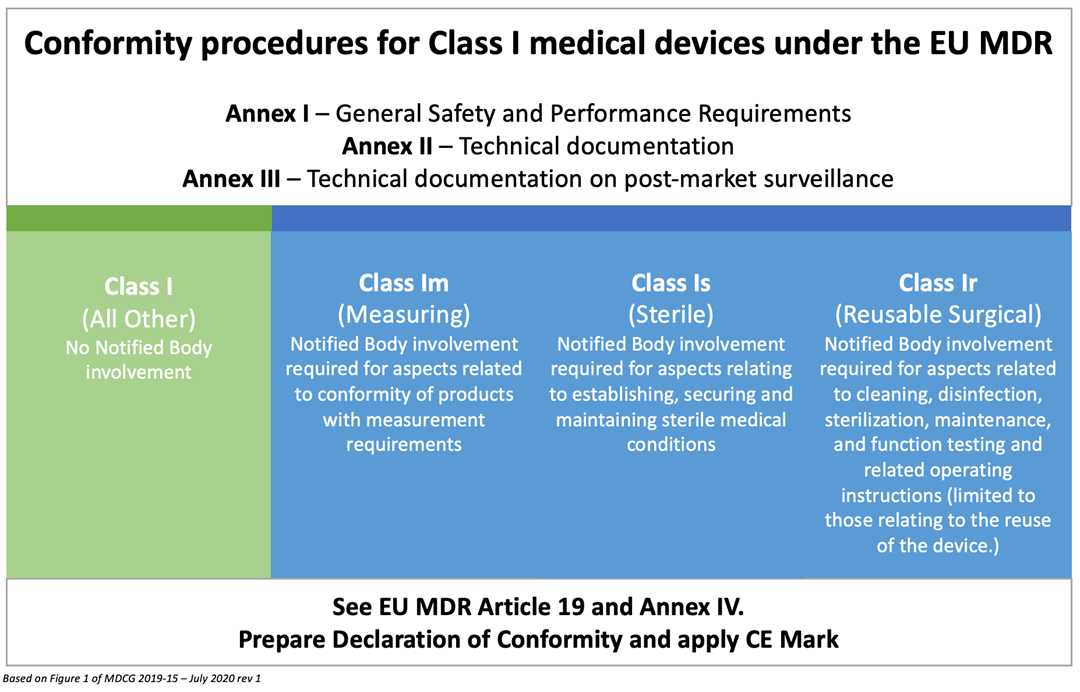 Sorry, you are not exempt from MDR compliance starting May 2021 even if your device has a valid MDD certificate
Despite the compliance extension, Class I manufacturers still need to comply with certain aspects of the MDR. This is spelled out in Article 120 of the MDR which was amended in December 2019 by this brief Corrigendum. The updated version of Article 120(3) is shown below:

"Article 120(3) – By way of derogation from Article 5 of this Regulation, a device which is a class I device pursuant to Directive 93/42/EEC, for which the declaration of conformity was drawn up prior to 26 May 2020 and for which the conformity assessment procedure pursuant to this Regulation requires the involvement of a notified body, or which has a certificate that was issued in accordance with Directive 90/385/EEC or Directive 93/42/EEC and that is valid by virtue of paragraph 2 of this Article, may be placed on the market or put into service until 26 May 2024, provided that from 26 May 2020 it continues to comply with either of those Directives, and provided there are no significant changes in the design and intended purpose. However, the requirements of this Regulation relating to post-market surveillance, market surveillance, vigilance, registration of economic operators and of devices shall apply in place of the corresponding requirements in those Directives. Without prejudice to Chapter IV and paragraph 1 of this Article, the notified body that issued the certificate referred to in the first subparagraph shall continue to be responsible for the appropriate surveillance in respect of all of the applicable requirements relating to the devices it has certified."
–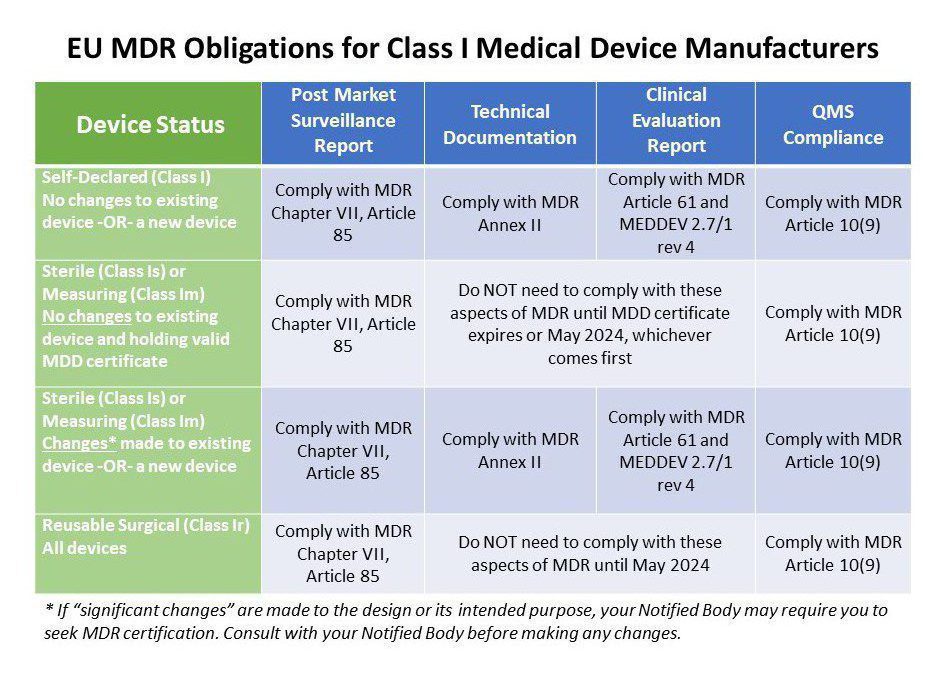 1 – Post Market Surveillance Reports (PMSR) for Class I devices
Even if you are not planning to make any changes to your Class I device anytime soon and will continue to declare conformity with the MDD, ALL Class I manufacturers are required to generate a PMS plan and PMSR as outlined in Chapter VII, Article 85 of the EU MDR. Your PMSR needs to summarize the results and conclusions of your PMS data along with a rationale and description of any corrective actions taken for products on the market. This report becomes part of your Technical Documentation (the new moniker for the Technical File) and is updated when necessary and made available to EU Competent Authorities upon request. Your PMSR should be maintained throughout the entire life cycle of the device. Read more about what goes into a PMSR here and how to get trained on this here.
2 – Technical Documentation for Class I devices
Here's where things get a little trickier. The table above explains the MDR obligations of various Class I device manufacturers. Annex II of the MDR requires all medical device manufacturers to have adequate technical documentation. This includes very detailed information on the device, previous and similar generations of the device, a complete set of labels for the device, design and manufacturing information, general safety and performance requirements, a benefit risk analysis and risk management information, product verification and validation data, clinical data and more.
The Corrigendum we mentioned earlier does give a free pass to Class I devices that are provided sterile or have a measuring function IF no changes are made and they are still holding a valid MDD certificate. That's true for all reusable surgical instruments as well, which were previously self-certified. However, if you are marketing any new Class I device, or you are making changes to the design or intended use, you must comply with Annex II of the MDR. Study it carefully.
3 – Clinical Evaluation Reports (CER) for Class I devices
If you manufacture Class I devices that are provided sterile or have a measuring function you may already have a technical file in compliance with the MDD. However, your old technical file will not stand up to the strict new requirements of the Chapter VI of the MDR and MEDDEV 2.7/1 rev. 4. Again, the situation is a little tricky because the same situation we just described for technical documentation applies for clinical data as well.
What's different is that clinical data takes time to collect and you can't simply postpone collecting the data necessary to comply with the new requirements until your existing MDD certificate is about to expire. You'll be in a world of hurt if you do.
Whatever your situation, we recommend that you start with Section 7 (pp 15-17) of the MEDDEV as it discusses the scope of the clinical evaluation needed. This will be critically important for you from now on. You can roll your eyes all you want but a Notified Body will not care if your device has been safely sold for 25 years – you still need to gather clinical evidence to demonstrate that your device is safe. Start now. This article also provides an excellent overview of your CER obligations. If you are still thoroughly confused after reading all that, consider this class.
4 – Quality Management System for Class I manufacturers
If your company manufacturers Class I sterile or measuring devices, you may already have a quality management system. If you have not already implemented a quality system that complies or is certified to ISO 13485:2016 you may want to consider doing so. While the MDR does not explicitly require a certified Quality Management System (QMS), the easiest way to comply with the QMS requirements in Article 10 is by achieving ISO 13485:2016 certification. Granted, you are not making pacemakers so your QMS can be proportionate to the risk of your device. Even self-certified Class I device manufacturers need to implement a basic QMS that includes procedures for management review, corrective action, vigilance, PMS, and so on. Read MDR Article 10 thoroughly. Starting from scratch? This class provides a focused deep dive primer on QMS compliance.
Register your company in EUDAMED
Finally, under the MDR all manufacturers will eventually be required to register their company and devices in the new EUDAMED online database. The European Commission opened up the database to manufacturers in December 2020. Unless you are not submitting a new MDR registration, registration is voluntary (for now) but it makes good sense to get your company Single Registration Number (SRN) now and start getting familiar with the system. Your SRN will appear on future certificates and your Declaration of Conformity as appropriate. Be sure to download this excellent EUDAMED user guide published by the European Commission.
Want to learn more?
Before you dig too deep into the requirements of the MDR for Class I devices, let Oriel STAT A MATRIX help you conduct an MDR gap assessment. This is especially important if you make reusable surgical instruments or have plans to make changes to your device. Also, we have a variety of relevant training classes on CER, PMS, QMS and other acronyms that will play an important role in your European compliance journey going forward. See them here.