IVD Performance Evaluation Planning and Report (PER) Requirements in the IVDR 2017/746
December 15, 2020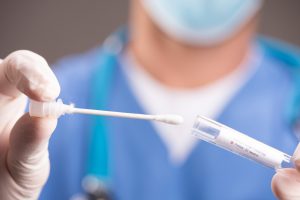 Unless you are currently selling high-risk IVDs in Europe, chances are your technical documentation has not been scrutinized by a European Notified Body.
That's about to change in a big way.
Starting in May 2022 Europe's In Vitro Diagnostic Regulation (IVDR 2017/746) will impose strict new requirements on many IVD manufacturers seeking CE Marking for their devices.  Going forward 85-90% of all IVDs seeking CE Marking certification in Europe will need to have their quality management system and technical documentation approved by a European Notified Body. While Annex III of the In Vitro Diagnostic Directive (IVDD) always required performance evaluation data, the focus was only on analytical performance. Even then the need to produce this was not explicitly stated nor reviewed closely by Notified Bodies.
So you're probably wondering what will be required by the IVDR going forward.
Before we dig into that let's step back for a moment. Understanding your performance evaluation obligations starts with making sure you have the proper repository of documents at your disposal. Even if you have already downloaded a copy of the IVDR, get this PDF version instead because it includes a linkable table of contents. You won't regret it. The relevant sections here are Chapter VI and Annex XIII.  After that download these documents to your desktop:
And finally, because the classification of IVDs (A, B, C, D) is entirely new you'll also want a copy of this IVD classification guidance document.
It starts with a plan…Performance Evaluation Process and Planning
Performance evaluation is important for many reasons, but the overarching goal is to prevent false positives or false negatives, both of which can have a detrimental physical and psychological impacts on the patient.
It's tempting to jump in and tackle the nuts and bolts of doing a performance evaluation but it's really critical that you start by writing a Standard Operating Procedure (SOP) and creating a comprehensive Performance Evaluation Plan (PEP) as part of the planning requirements. Don't skip the SOP step as Article 56(3) of the IVDR mandates having a process established and implemented.
Even if you have US FDA 510(k) clearance for your device, the EU IVDR is very strict about demonstrating clinical benefits and you'll likely need to generate (and analyze) more data than you have now! In addition, European regulators have a completely different view of clinical benefits related to IVD medical devices as compared to US FDA.
There are certain elements that should be included in every performance evaluation plan. They include, but are not limited to:
The General Safety and Performance Requirements (GSPR) supported by your performance evaluation
Intended use or purpose of the device
Indications for use, limitations and contra-indications
Performance specifications of the IVD
A description of the current state of the art
Benefit-risk ratio parameters
Intended target patient groups
Analyte or marker to be used
Foundation for underlying software decision making (if applicable)
It is important that you spend plenty of time preparing this plan because it will ultimately save you time when you actually complete the performance evaluation. Be mindful that your "research" may alter the product's risk assessment and risk management processes. You also want to consider whether you have the internal resources to conduct all aspects of the performance evaluation or whether you need to bring in outside expertise.
Steps in the Performance Evaluation Process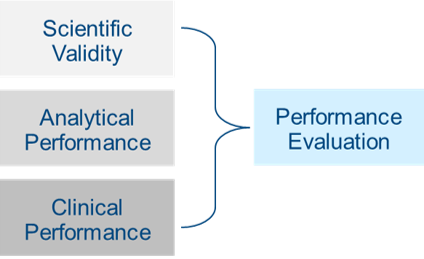 Proving SCIENTIFIC VALIDITY of your IVD
If you're bringing a new product to market, it's important that you start this early in the lifecycle of your IVD. One way to do this is to use relevant information on the scientific validity of devices measuring the same analyte or marker. Obviously, you can and should perform a detailed literature search but if inadequate evidence is available you will need to do proof of concept, pre-clinical studies, or clinical performance studies. All of your findings will be summarized in your scientific validity report which will become part of your performance evaluation report. See IVDR Annex XIII, Part A for more information.
Evaluating ANALYTICAL PERFORMANCE of your IVD
IVDR Annex I, Section 9.1 describes the performance characteristics you must measure. These include sensitivity, specificity, repeatability, reproducibility, predictive value and more. You're required to maintain records of these performance characteristics for the life of the device. Plan your sampling carefully as the ability to create reproducible results is critical. The outcome of your analytical performance will be summarized in – you guessed it – an analytical performance report.
Evaluating CLINICAL PERFORMANCE of your IVD
You also need to conduct analysis of clinical performance. The focus here is on measuring the diagnostic accuracy of your device. In most cases you'll need to conduct a clinical performance study which may utilize retrospective samples instead of needing to perform a prospective clinical study. If you choose (or must) rely on peer-reviewed literature make sure you have meticulously documented your search criteria and methods. If there's any question about whether you should conduct a clinical study, type/number of samples, or how a study contributes to performance evaluation, consult with your Notified Body early on. Naturally before you conduct any study you'll need to write a protocol and that's where ISO 20916:2019 comes into play in concert with the requirements outlined in Annex I, 9.1. Carefully document reasoning behind your collection methods.
Annex II, 6.3 of the IDVR also dictates you need to examine claimed shelf life, shipping stability and in-use stability. And yes, you'll generate reports for that too. (You'll be very good at writing reports by the time your Notified Body audit rolls around.)
What is an IVD Performance Evaluation Report (PER)?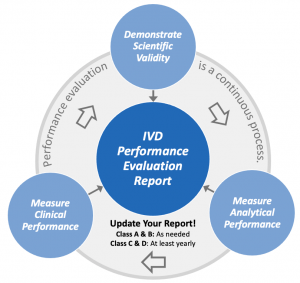 With a robust plan to follow and analyses of scientific validity, analytic, and clinical performance completed, it's time to assemble the final performance evaluation report. Here's where all that time you spent planning pays off.
Annex XIII, Part A, 1.3.2 of the IVDR spells out the basic requirements for your PER including:
Classification of the IVD, taking safety and performance characteristics into account
Intended purpose of your device and performance or safety claims
Technology on which your IVD is based
Justifying the approach you have taken for gathering clinical evidence
Detailing your literature search methodology, protocol and report
Extent of scientific validity plus all analytical and clinical performance data that's been evaluated
Evaluation of clinical evidence compared to the current state of the art
Results of Post Market Performance Follow-up (PMPF) studies
Performance evaluation reports for Class A & B devices can be updated as needed but the same reports for Class C & D devices must be updated as needed but at least every year.
It's important to remember that evaluation of IVD performance is not a one-time project.
Annex XIII, Part B of the IVDR mandates that you continue to monitor the performance of your product throughout its life cycle. Post-market Performance Follow-up (PMPF) is the link between the performance evaluation that you have completed and your post-market surveillance system. You must update this throughout the lifecycle of the device.
Want to Learn More?
The IVDR is much more than a new coat of paint on the IVDD. It's an entirely new regulation. Oriel STAT A MATRIX can help you make sense of it in several ways. First, if your fairly new to the regulation check out our in-depth IVDR overview training class. If you're a seasoned auditor, our IVDR auditor training may be of interest. Finally, if you simply need help with a gap analysis assessment or getting your technical documentation into shape, we can assist with this too.