Apr 06, 2020
Get Your Medical Device or PPE on the EU Market to Help with COVID-19. Here's How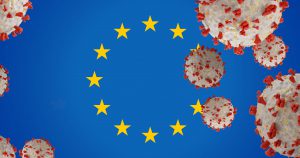 In the age of COVID-19, there may be confusion around how to get a medical device into the EU market to support European citizens grappling with this devastating pandemic. We are experiencing an exceptional event, and regulators know that they play a key role in getting life-saving medical devices and personal protective equipment (PPE) to market as quickly as possible.
Manufacturers that have the desire and ability to ramp up their manufacturing capacity to fulfill unmet needs in the EU are getting some guidance from the European Commission.
If Your Company Is Already Selling Other Medical Devices in Europe
There is not a single market authorization that is equivalent to the CE Mark for emergency-use medical devices. If your device does not already have a CE Mark, the Medical Devices Directive gives each Member State (EU country) the authority to place the product in their respective country. Note, however, that this approval does not allow for broad EU market access, as the approval is limited to the respective country granting the approval. The conformity assessment route will vary country by country.
At least one major German Notified Body has stated that they are not involved in the accelerated approval process for COVID-19, as they would often normally be for most types of devices. Instead, the Competent Authority in each Member State has established a list of accredited labs providing emergency testing that will allow products to be released for export to the EU. Therefore, you can contact the Competent Authority (where your Authorized Representative is located) directly and they can tell you the process of how to send the product for testing. In parallel, it is important for you to inform your Notified Body of your activities to introduce your product(s) into specific European countries.
The other option is to have your Authorized Representative contact the authorities for you. This is recommended, because your Authorized Representative probably represents dozens or hundreds of companies and is more likely to break through the clutter inside a Competent Authority. Remember that Competent Authority employees are just like us probably overstressed at the moment, working tirelessly to address the many urgent tasks and inquiries sent their way. Thus, your Authorized Representative may be able to get through faster.
If Your Company Is NOT Already Selling Other Medical Devices in Europe
If you are not currently selling in Europe, you dont have an Authorized Representative. You will need to contact the Competent Authority for each European country you desire to access. (See link below.) Perhaps start with some of the larger markets, including Germany, France, and the UK.
Additional Helpful Information
Here is some information from the European Commission specifically related to COVID-19. Please read these documents before contacting a Competent Authority.
It goes without saying (but well say it anyway) that any accelerated process is temporary and applicable only to devices with direct benefit to either patients with COVID-19 symptoms or the people caring for those patients. Please dont contact the Competent Authorities unless you have a specific inquiry about a device that could aid in this battle.
We Are Ready to Help You
In response to COVID-19, Oriel STAT A MATRIX has been helping medical device companies with quick EU and US market access, and our US and EU consultants are ready to help you cut through the red tape right now. If you have a device that can contribute to the efforts to fight COVID-19, or if you have information that would be useful to update this article, we want to hear from you.
Get answers right now. Call

US OfficeWashington DC
EU OfficeCork, Ireland