Putting Together Medical Device Process Validation Plans and Protocols for IQ, OQ and PQ
April 15, 2019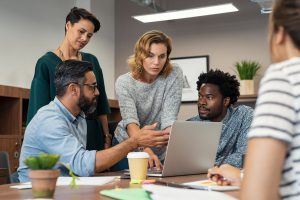 There are many ways to conduct process validation but given the huge variation in production volumes and manufacturing complexity, you won't find many suggestions on how to go about it in FDA regulations or in ISO 13485. That being said, this guidance document from 2004 is still the "go to" source for medical device process validation. Even the FDA website will refer you to this guidance document.
It All Starts with a Plan
Once you have formed your validation team, now what? The next step is to create a detailed Process Validation Plan (PVP). The PVP is not an FDA requirement but is recommended in GHTF guidance and is always one of the first documents a regulator asks to see. It's extremely important. Among other things, the process validation plan identifies:
Elements to be validated.
Approach to be taken for validation of each element.
Organizational responsibilities.
Documentation to be produced.
Your PVP should contain the following elements:
Define device and the validation approach.
Identify what needs to be validated.
Site activities.
Scope of documentation.
Schedule of activities.
Overall master schedule.
Listings and references to validations performed internally and externally.
Plans can be created for a variety of reasons. Individual validation plans can be used to support the planning of more complex projects such as new manufacturing lines or transferring production to another vendor.
Master Validation Plan
Your master plan will tie together all elements of your facility, from utilities to measuring tools. Within that master plan, you'll identify equipment and processes that will require more detailed protocols. The master plan also provides information that is useful for managing schedules, risk, resources, cost estimation, and ongoing activities. Perhaps more importantly, creating a plan forces you to think about the interrelationships among processes, tools, equipment, and so on.
Example of a Validation Master Plan (VMP) Checklist.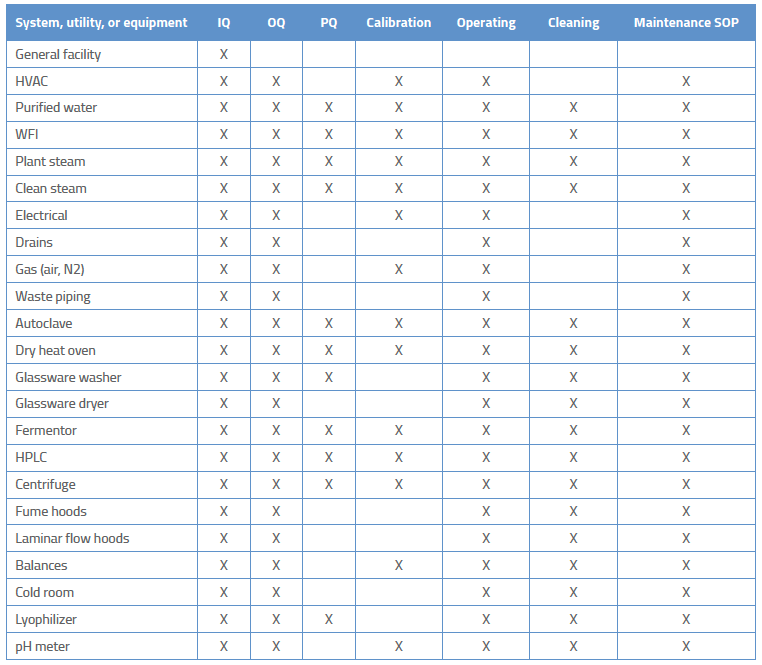 Writing Process Validation Protocols
Your process validation plan provides a general framework for where you want to be, but your protocols are the actual maps on how to get there. Protocols are critical because they help determine if rules or procedures are done correctly and prevent crucial steps from being overlooked. They specify instructions or guidelines on how you plan to carry out a comprehensive study to investigate consistent operation of a new system or new equipment or procedure. Typically, protocols include significant background information. They explain the rationale for an objective of the study, give a full description of the procedures to be followed, set out parameters to be measured, describe how results will be analyzed, and provide predetermined acceptance criteria for reaching conclusions. Protocols determine:
What to verify/measure
How to do it and how many to do
When to do it
You need to determine the best documentation strategy for your project. A complex piece of equipment like a filling line or a CMC, will likely need a process validation plan that identifies the need for a separate IQ, OQ, PQ protocol. A simpler process/equipment such as a pH meter or balance may have a strategy that combines IQ, OQ, and PQ into a single plan/report.
It is important to reiterate that in order to write an effective protocol you need to fully understand the exact product requirements. That's because your protocols will also establish your criteria for acceptance or rejection and outline the specific documentation you need. Remember, both the US FDA and ISO 13485 require you to document the results of your process validation activities and this includes writing a clear, simple conclusion!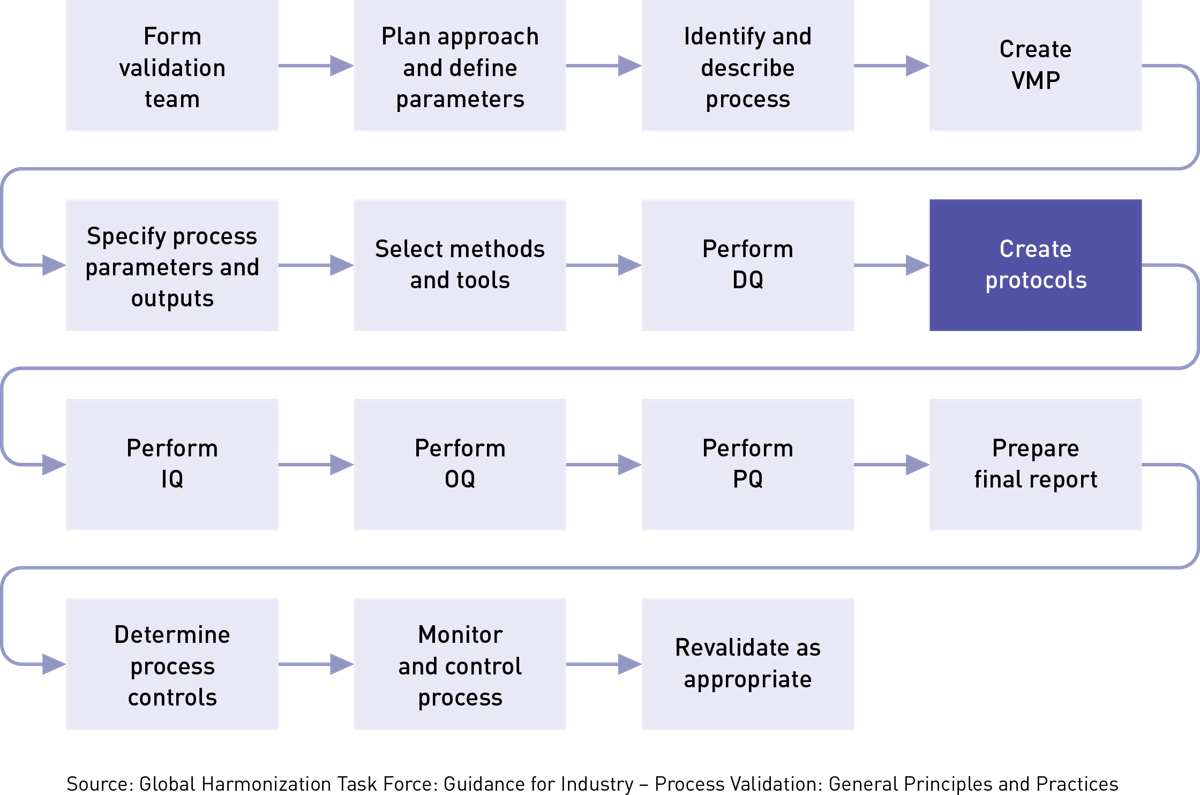 Content of Validation Protocols
There are three types of validation protocols (IQ, OQ, PQ) and we will talk more about those later. But first let's discuss the contents of a protocol. The details of what should be included in your process validation protocol can be found in this GHTF guidance document. Here's what the guidance suggests:
Identify the process(es) to be validated.
Identify the device(s) to be manufactured using this process.
Objective and measurable criteria for a successful validation.
Length and duration of the validation.
Shifts, operators and equipment to be used in the process.
Identify utilities for the process equipment and quality of the utilities.
Identify operators and required operator qualification.
Complete description of the process.
Relevant specifications that relate to the product, components, manufacturing materials, etc.
Any special controls or conditions to be placed on preceding processes during the validation.
Process parameters to be monitored, and methods for controlling and monitoring.
Product characteristics to be monitored and method for monitoring.
Any subjective criteria used to evaluate the product.
Definition of what constitutes non-conformance for both measurable and subjective criteria.
Statistical methods for data collection and analysis.
Consideration of maintenance and repairs of manufacturing equipment.
Criteria for revalidation.
Format of a Basic Medical Device Process Validation Protocol
A well written protocol will outline the correct rules, policies, and procedures to be followed during process validation. As seen below, it includes facilities, equipment, methods, and training. It identifies process inputs and limits and shows all the necessary steps for successful completion of the process validation project. This outline below is by no means a complete list of everything that should go into your protocol but it gives you a sense of the detail required. We strongly suggest that you study the GTHF process validation guidance or consider this training class for a deep dive into the subject. Show below is the basic framework for a protocol.
Title page
Table of contents
Signature page
General
Purpose/scope of protocol

Why you are doing the protocol and general background
Scope of the protocol including goals
Reference documentation
External considerations

System description
Responsibilities

Major players on validation and any external experts
Responsibility matrix for various departments

Execution procedures documentation

How protocols will be executed
Needed SOP training for personnel
Record keeping

Test equipment

List of equipment to be used plus certificates of calibration
Specific procedures to be used
How parameters will be set, monitored and controlled
Instructions for conducting visual inspections

Visual inspection
Equipment components
Instrumentation

Full list of instruments with SOPs

Utility verification

Full list of all critical and non-critical utilities applicable to the process

Summary report
Approval page
Next Step: Performing IQ, OQ and PQ
Jump to our next post in this series on how to perform Installation Qualification, Operational Qualification and Performance Qualification. If you would really like to boost your knowledge of the topic, consider our three-day class on medical device process validation.