Overview of Medical Device Process Validation and Regulatory Requirements
April 15, 2019
Before introducing a new medical device onto the market, manufacturers should have a high degree of certainty that their manufacturing processes have the proper controls in place to produce products that are safe and meet specified user, technical, and regulatory requirements. The US FDA and ISO 13485 require device makers to verify that their products meet documented design specifications, and this may be accomplished through post-production inspection or testing. This is otherwise known as "verifying" product quality and, if you choose this route, you'll need to test every single device you produce.
But what if testing every product is impractical, would never reveal all variations, or the testing itself destroys the product?
That's where process validation comes into play. Process validation fulfills an important quality assurance need by subjecting a process to such intense scrutiny that the output of the process is extremely likely to consistently meet established production quality specifications. They key word here is "process" because it does not mean validating the device itself.
How the US FDA Defines Process Validation
The US FDA Quality System Regulation defines process validation as follows: "Process validation means establishing by objective evidence that a process consistently produces a result or product meeting its predetermined specifications." In section 820.75 the FDA goes on to say:
(a)    "Where the results of a process cannot be fully verified by subsequent inspection and test, the process shall be validated with a high degree of assurance and approved according to established procedures. The validation activities and results, including the date and signature of the individual(s) approving the validation and where appropriate the major equipment validated, shall be documented."
(b) Each manufacturer shall establish and maintain procedures for monitoring and control of process parameters for validated processes to ensure that the specified requirements continue to be met.
Similarly, ISO 13485:2016 says, "The organization shall validate any processes for production and service provision where the resulting output cannot be verified by subsequent monitoring or measurement"
Neither FDA nor ISO 13485 provide much instruction on medical device process validation and instead defer to guidance published by the GHTF (now the IMDRF) that was published in 2004.
It is important to note that process validation links to other sections of the QMS including design controls, purchasing controls, personnel and production/process controls.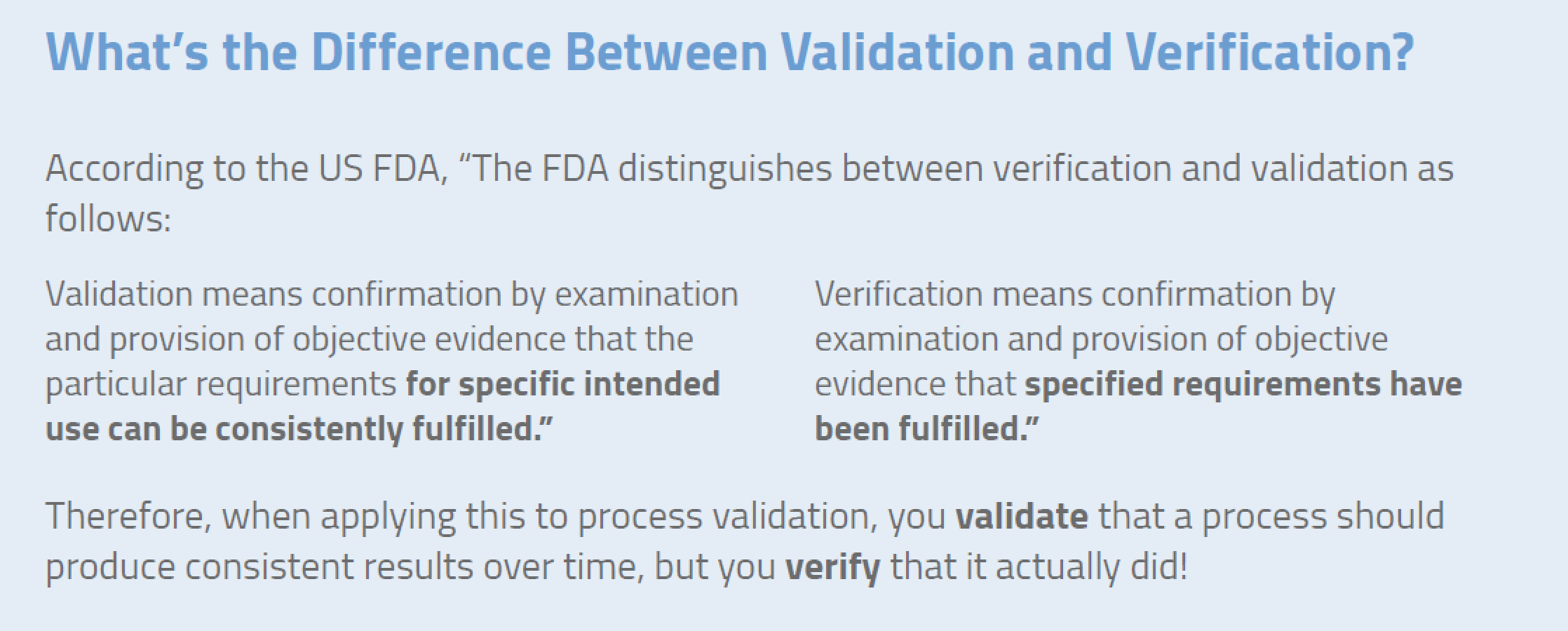 Relationship between design validation and process validation
Design validation focuses on the device itself and involves creating evidence that it meets user needs and intended uses. Process validation, as the name implies, focuses on the production of the device. Most companies follow FDA requirements for design control 820.30 and ISO 13485 standard clause 7.3, and then perform validation during the final stage(s) of the product and process development sequence. However, planning begins with the initial design control process implemented by R&D. They help identify device quality characteristics and process variables.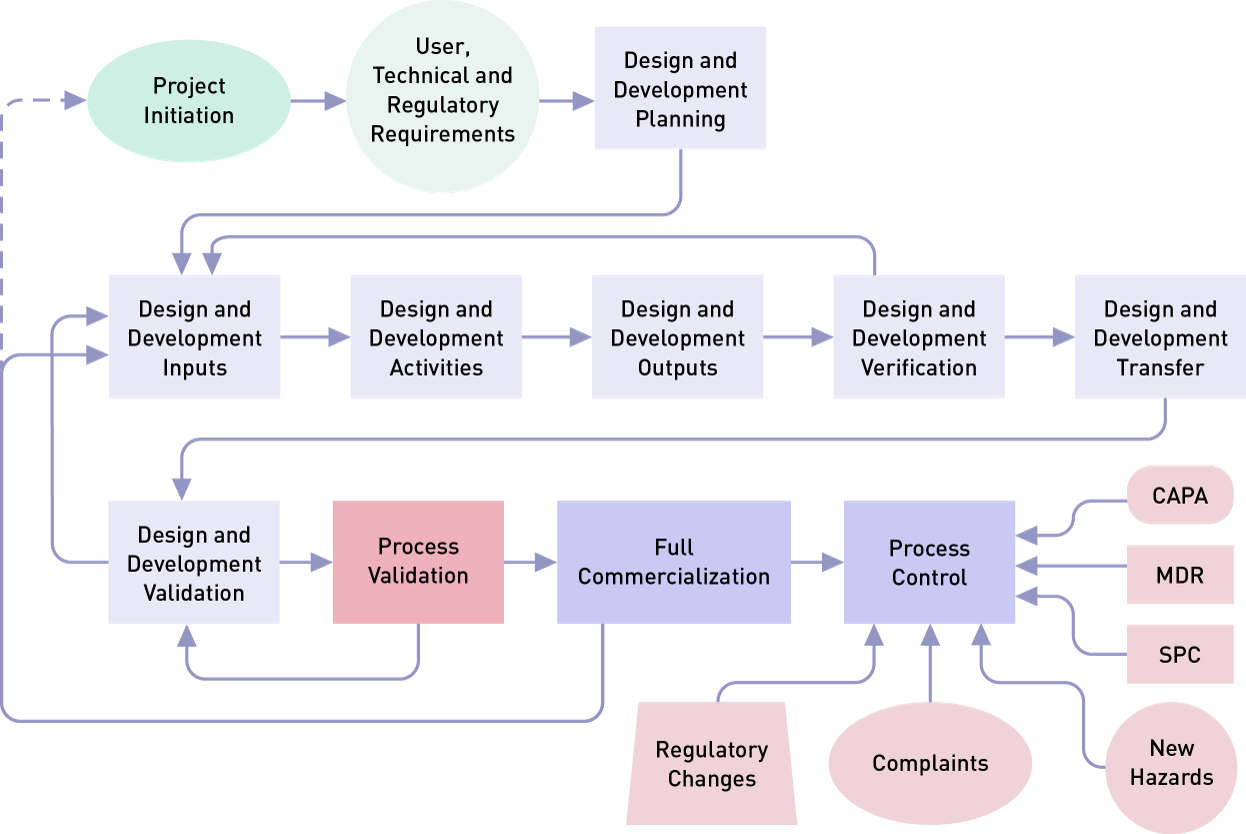 Which Medical Device Production Processes Require Validation?
Validation should be performed on any new processes that are being implemented, existing processes that need to be qualified on a regular basis and existing processes that have been modified, expanded (volume or scope), experienced a downward trend in performance or an increase in customer complaints.  According to guidance published by the GHTF (now the IMDRF), the following are common examples of processes that should be validated.
Sterilization and sterile packaging sealing.
Clean room ambient conditions.
Aseptic filling.
Lyophilization.
Heat treating, plating, welding, soldering, painting etc.
Plastic injection molding.
By contrast there are some processes where product verification is adequate such as manual cutting processes, visual inspection of printed circuit boards and testing of wiring harnesses. In these cases, the output of a process can be verified with high reliability and accuracy. But even with these processes, we need to understand the sources of variation and control them.
Basic Steps in Medical Device Process Validation
To assure that a manufacturing process will consistently meet certain parameters, you must follow a systematic series of steps, such as shown below. Some of these steps may be combined but we have broken them out separately for clarity.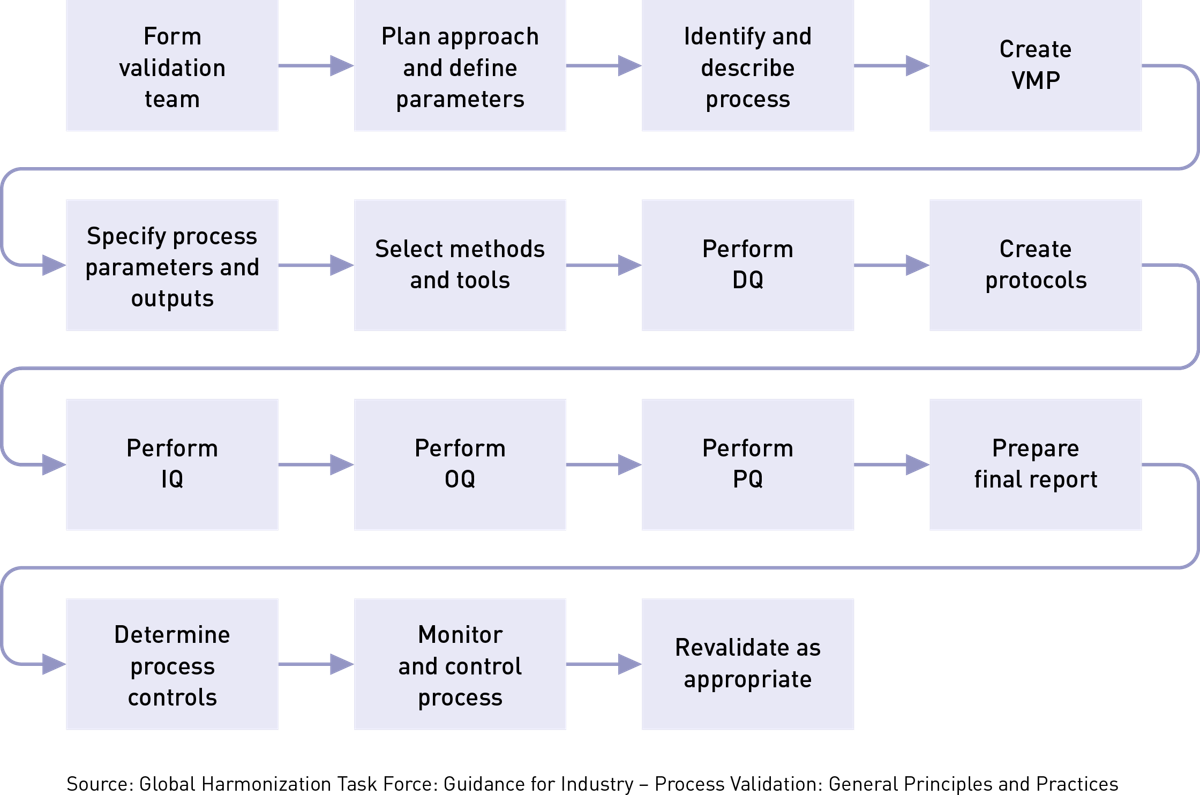 Forming Your Process Validation Team
Process validation isn't something to do alone in a cubicle. You'll want to get input from experts who know the product and process inside and out. Typically, your team will include members from quality assurance, engineering and manufacturing. However, if your company is larger, it may also include people working in R&D, clinical engineering, purchasing, lab/technical services or regulatory. Resist the urge to make the team larger than it should be. To keep things efficient, add people carefully, ensuring they have expertise in the process and can add significant value to the team.
The next step is to plan your approach. Planning for validation begins with initiating the design control process, implemented by R&D, which helps to monitor and control process variables.
Next Step: Putting Together Your Plan and Protocols
Don't stop now, you're just getting started. Jump to our next post in this series on how to develop your process validation plan and protocols. If you would really like to boost your knowledge of the topic, consider our three-day class on medical device process validation.