Feb 06, 2019
The FDA 510(k) Process: Setting the Stage for a Successful Submission and Faster Approval
If you've never prepared a medical device FDA premarket notification, commonly known as a 510(k) submission, figuring out where to begin can be daunting. The FDA website provides a goldmine of information but extracting those golden nuggets requires lots of digging. In this post, we'll provide a primer on how to approach the FDA 510(k) approval process, explain how the process works, and talk more about predicate device research and identifying the right product code.

Already familiar with the basic 510(k) process?
Skip to our
second post
, which discusses guidance documents and data needed for submissions. We've combined all three posts into one easy to read white paper.
Download it here
.
Basic Steps in the Medical Device Premarket Notification Process
We'll explain various steps in the process throughout this blog series, but let's start with a holistic review of the FDA approval process.
Confirm classification of your medical device and whether it falls under the 510(k) pathway.
| | |
| --- | --- |
| 1 | Confirm classification of your medical device and whether it falls under the 510(k) pathway. |
| 2 | Using the FDA website, identify the appropriate three-letter product code and regulation number for your device. |
| 3 | Conduct research on the FDA database and select a predicate for comparison. |
| 4 | Search on the FDA website for applicable FDA guidance documents. |
| 5 | Determine which international "consensus standards" may apply to your device. |
| 6 | Identify clinical data and/or testing that may be required for your device. |
| 7 | Complete performance testing and perform clinical studies (if required). |
| 8 | Assemble all documentation into the 510(k) application. |
| 9 | Review the Refuse to Accept (RTA) checklist to ensure that you're following the FDA guidelines for completeness. |
| 10 | Pay the 510(k) review fee, get the receipt, and then submit the 510(k) to FDA. |
| 11 | Receive confirmation from FDA within 2 weeks that your 510(k) was accepted for substantive review. |
| 12 | If you 510(k) is determined to be substantially equivalent, you will receive a letter and it will be posted on the FDA website and this will serve as proof that your device may be legally marketed in the US. No certificate will be issued. |
The official nomenclature for a 510(k) is premarket notification. We should note that FDA does not actually "approve" 510(k) submissions – they "clear" (authorize) a device to be marketed in the US. That's why a 510(k) is called a premarket notification and not premarket approval (PMA), which applies only to Class III devices. But for the sake of clarity, we use the term approval in this introductory article. The FDA does "approve" Class III medical devices via the PMA process.
Confirm That You Have a Medical Device That's Regulated by FDA and Needs a 510(k)
This may seem obvious, but the very first step is to confirm that your product is a regulated medical device and needs to go through the 510(k) approval process. Some products (i.e., low-risk devices Class I products) do need to be registered with FDA but don't need to go through the FDA 510(k) process. Nearly all Class II devices must procure a 510(k). Following is information on how you can find out whether your device is regulated and needs a 510(k).
Identify the Right Product Code and Regulation Number for Your Medical Device
FDA uses a predicate-based review approach. This means that when you submit your application to FDA, you will be comparing your medical device to a very similar device that has already been approved (the predicate) by FDA. This process is quite different from the approach used in Europe or Canada – those markets apply a risk-based rules approach to device registration, which means the device must largely stand on its own merits with regard for safety and performance. Because FDA requires you to identify a single predicate device, your first step will be to find one. You may already have a good idea of which competitive products would make a suitable predicate for comparison in your 510(k). In any case, you should start your research using the FDA Product Classification database.

For example, let's say your company is introducing a new cardiovascular blood flowmeter to the US market. The first step would be to begin with a simple device search on the FDA database, as shown, and then look at the options available. Start with broadest definition of your product – in this case, just the term "flowmeter." The results show that there are six unique FDA product codes for products related to flowmeter.

Code DPW looks to be the best match but, to make sure, click on the regulation number and carefully read the description.
Choosing the Right Predicate Device for Your 510(k) Submission
After you have read the description associated with the regulation number and are absolutely certain that the product code DPW is the correct one, then go the FDA's 510(k) database and search for any devices cleared under product code DPW.
This is where things can get tricky and you need to be careful. In this example, there are 131 cleared medical devices under classification product code DPW. Which one will make the best predicate for your device? Well, here's a piece of advice: When reviewing your options (hopefully you will not have 131 options), it is best to sort by the "Decision Date" column and start with devices that were cleared recently. Why? While it may be tempting to choose an older device as your comparative predicate, the FDA frowns upon using devices cleared more than 10 years ago.
Your next step will be to click on the "Summary" link for each device as shown (see the example page below).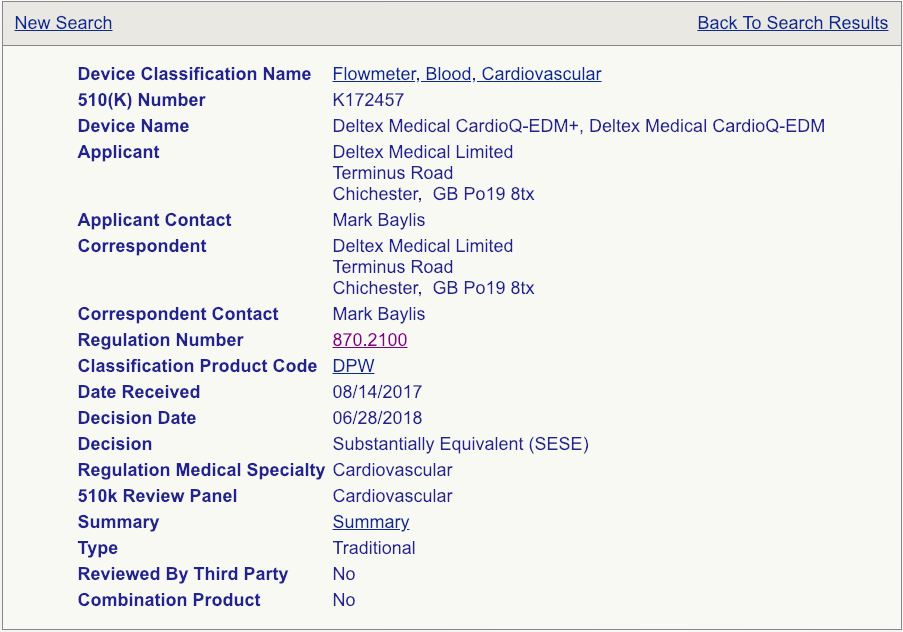 Read these summaries very, very carefully. Pay attention to the intended use, allowed indications for use, testing conducted, and clinical studies that may have been performed. Some 510(k) summaries provide more information than others, so make sure you review as many as possible and aggregate your knowledge in a spreadsheet if you are reviewing a lot of summaries. Your chosen predicate does not need to be identical to your device, but it needs to be close enough not to raise additional safety and effectiveness questions. The chosen predicate must have the same intended use and indications for use. This is very important. If the indications for use are different, that device won't be a suitable predicate. The technological features should closely match your device. Choosing the right predicate is truly critical for the success of your submission and, if you have any reservations about your options, you should seek the advice of an experienced FDA consultant.
What Happens If Your Device Is Truly Innovative?
A limitation of the FDA predicate registration system is that it does not easily accommodate innovation. In the past, this was why some companies introducing innovative technology chose to introduce their devices to the European market first. If you have truly new technology or your device combines two existing technologies, you can ask FDA to render an opinion on the classification and regulatory requirements for the device by submitting a 513(g) request for information. Some companies making innovative low-risk medical devices without a suitable predicate device can go through the De Novo process. This allows FDA to assign a Class I or Class II designation and product code/regulation number to a product that has no current relevant product code.
You may also request a Q-Submission Meeting (Q Sub) with FDA to clarify regulatory requirements, get advice on what technical documentation to include, or discuss clinical studies needed to support your submission. These short meetings (in person, via phone, or in writing) allow you to ask a few substantive questions (depending on time allowed) and can be a worthwhile way to ensure that you don't waste time and money. Unless you are absolutely confident of the path you need to take and what will be required in your submission, we recommend taking advantage of a Q-Sub meeting. (We can help you with this.) Nearly two-thirds of all FDA 510(k) submissions are slowed down by Additional Information (AI) requests from FDA reviewers. We'll talk more about AI requests later.
Want to Learn More About the 510(k) Process?
If you found this article informative, read the second part of this series. We'll focus on how you can determine which guidance documents and international standards are applicable to your device. If you really want to learn more about how the 510(k) process works prior to compiling your application, consider our training class on FDA 510(k) and CE Marking registration. Our FDA consultants can also assist with compiling or reviewing your submission.
Get answers right now. Call

US OfficeWashington DC
EU OfficeCork, Ireland