Oct 16, 2020
Futureproofing Your Medical Device QMS for Global UDI Expansion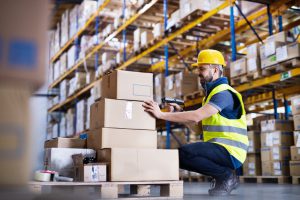 The Unique Device Identification (UDI) system was conceived as a means of harmonizing identification of medical devices throughout the distribution chain and at the point of use. UDI is required on labeling for Class II and III devices sold in the US (Class I enforcement begins September 2022), and you are likely aware that it's coming soon under the EU MDR. Less commonly known is the fact that other countries and regions around the globe are also beginning to require UDI.  As such, you should consider a global approach to UDI in order to seamlessly integrate UDI into your quality system.
Required Elements of a Unique Device Identifier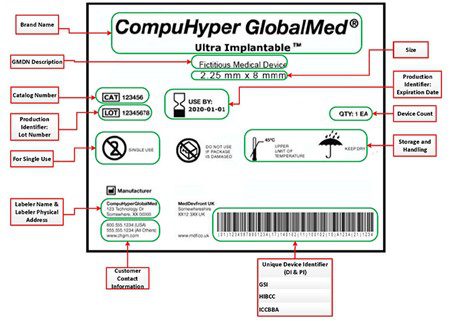 Source: US FDA
We make reference to several terms in this article, so here is a high-level recap. UDI consists of two elements as shown above and described below. These two elements must be easily readable in plain text (numbers, words) and machine readable (barcode).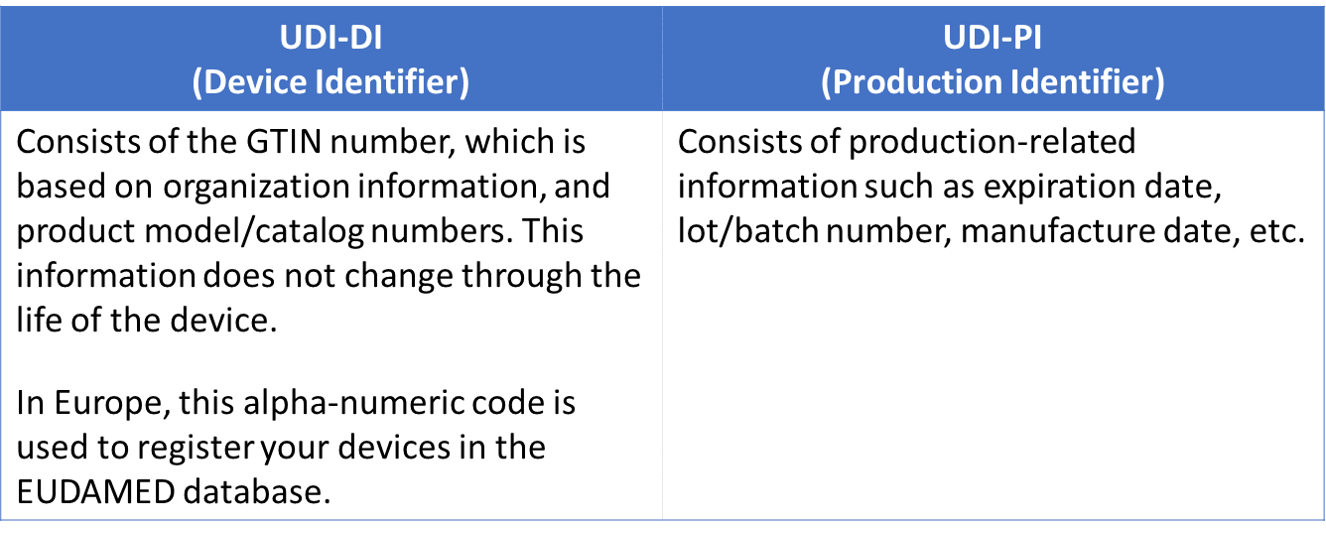 UDI is Here to Stay, so Plan for Expansion
Barcodes on medical devices are not new. Japan's MHLW issued the "Guideline for Barcode Labeling of Medical Devices" in 2008 and has been applying them for even longer. In 2013 US FDA issued a rule mandating the phased-in use of UDI. In 2017, Europe subsequently adopted UDI as part of the European Medical Device Regulation (2017/745). Since then the European Commission has published a variety of UDI-related guidance documents accessible here, and this guide is also an essential UDI resource.
Other countries, such as Brazil, China, India, Japan, Saudi Arabia, South Korea, and Taiwan, are either implementing UDI now or have released draft regulations. This is why you need to establish a global process structure that allows the seamless addition of new countries and allows for consolidation of data and information wherever possible, including approaches to establishing barcodes and defining label requirements.  Across the various global jurisdictions that have UDI requirements or will have UDI requirements, there are similarities that can reduce the burden on manufacturers.
Therefore, using a globally accredited provider to establish the GTIN will provide for alignment in the UDI used throughout the globe.  These can be issued by one of three FDA-accredited agencies: GS1, HIBBCC, and ICCBBA.
Establishing a Top-Level UDI Policy in Your Company
UDI impacts not just the labeling SOPs, but nearly every other subsystem within the quality management system.  Adjustments are required across the whole quality system to ensure UDI is seamlessly incorporated and not just an afterthought.  To proactively plan for global expansion, we recommend that you implement a top-level Global UDI Policy within your quality system to describe the company's compliance to the global UDI regulations.  Establishing a Global UDI Policy provides simplicity in linking the UDI requirements together with applicable requirements to each of the other impacted quality system elements and allows for seamless integration of UDI requirements into the entire quality system.
Because each jurisdiction will have different requirements for reporting information to their specific regulatory authority databases, it is important that you create clear instructions for those jurisdictions. In our experience, it works best to create separate, lower-level documents (Work Instructions, etc.) that are specific to nuanced requirements and database nomenclature of each jurisdiction.
How UDI Touches Various Parts of Your QMS
Typically, in any organization, UDI requirements impact the following areas of the Quality Management System (QMS) at a minimum, described further below.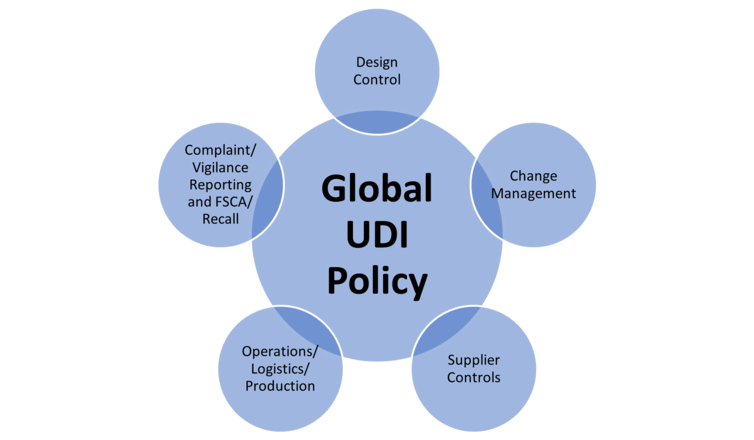 UDI Impact on Design Control Subsystem within the QMS
Within the Design Control subsystem, it is important to highlight where within the Design Control process UDI is first conceptualized for a new product.  Including UDI within the Design Inputs process allows you to consider UDI early and begin documenting some of the necessary information for inclusion in the global regulatory databases (GUDID, EUDAMED, etc.).  Including a requirement in a phase review to ensure UDI is established for the necessary planned markets would provide all impacted departments the opportunity to begin planning and implementing UDI before the market release crunch time. Linking the Global UDI Policy and Design Control will ensure this is not forgotten.
UDI Impact on Operations, Logistics, and Production Subsystems
Considerations for Operations and Production subsystems would include the operational steps of generating labels with UDI and inputting relevant information to global regulatory databases.  However, it is also important to consider the important linkage in the production documentation to include the UDI information.  Operational steps will include the most detail related to global UDI work instructions and process steps for implementing barcodes to labels.  Having Global UDI Policy references throughout operations and production SOPs (including production processes and labeling SOPs) provides a level of certainty that the process will be reflective of the requirements.
UDI Impact on Change Management
When implementing product changes, the impact to current UDI must be considered; where a new catalog number is generated to reflect an updated device design, a new UDI will be required.  In addition, while a device change might not impact the UDI number itself, the device change might impact the data included in regulatory databases (GUDID, EUDAMED). Including UDI as an element of the Change Management process will ensure that any necessary UDI updates are considered during the change process, instead of being an afterthought when the company is ready to release those changed products to the marketplace.
UDI Impact on Medical Device Supplier Management
Supplier management should also incorporate UDI requirements and link to the Global UDI Policy.  Your GTIN provider, and any other organization used to outsource any of the UDI process, should be included in the Supplier Management process.  In addition, ensuring that adding new operators within the distribution chain (Distributors, Importers, Authorized Representative, UK Responsible Person, etc.) are provided with any required UDI information.
UDI Impact on PMS
Finally, postmarket documentation is required to incorporate UDI numbers within the records.  Where an organization has a customer complaint, the UDI number is required to be included within the documentation.  For any reporting of serious incidences, adverse events, and any recall/field safety corrective action activity, the UDI number must be linked and included in the report. This can speed event review, analysis, and reporting.
Want to Learn More?
Having a multi-tiered and well-linked process can save some headache in implementing global UDI requirements within the Quality System. If you need assistance in helping to make that happen, Oriel STAT A MATRIX is ready to assist.