Oct 04, 2023
FDA to Regulate Lab Developed Tests (LDTs) as Early as 2025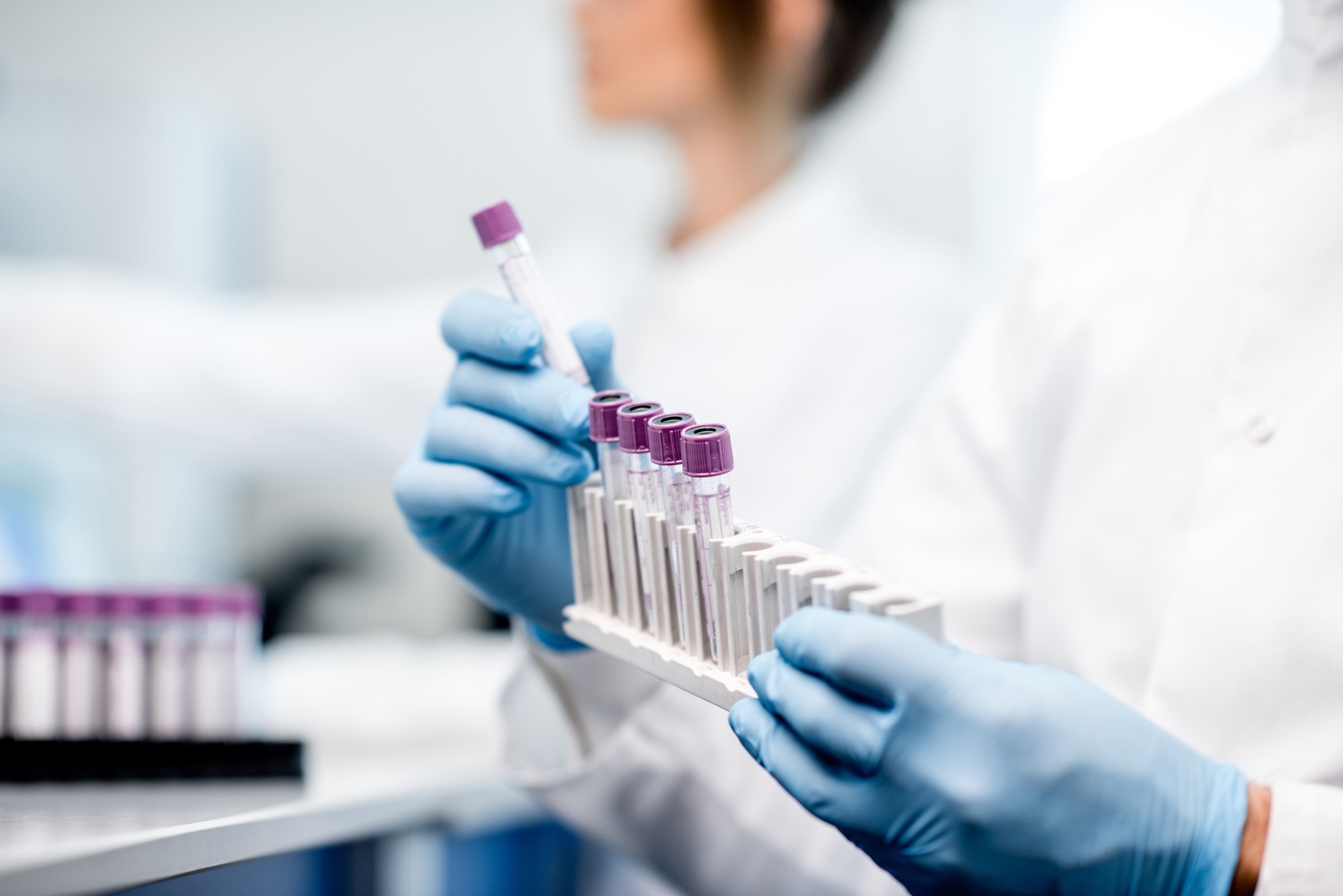 "In FDA's experience, including with COVID-19 tests and IVDs that are offered as LDTs after FDA's approval of a comparable companion diagnostic, many test systems made by laboratories today are functionally the same as those made by other manufacturers of IVDs. They involve the same materials and technologies, are intended for the same or similar purposes, are developed by and for individuals with similar expertise, and are marketed to the same patients, sometimes on a national scale."
That statement, taken from a proposed rule issued by the US Department of Health and Human Services on September 29, 2023, sets the stage for US FDA to finally take the lead in regulating Laboratory Developed Tests, commonly known as LDTs.
Here's a quick recap on how we got here. For decades, FDA has taken a relatively hands-off approach, choosing to exercise "enforcement discretion" over LDTs. The traditional thinking has been that LDTs were created for simple tests for low-risk conditions and are generally safe. Now FDA wants to enforce the existing FD&C Act and QSR requirements which would require that most LDTs go through the same classification and registration process as other medical devices and necessitating a more robust Quality Management System (QMS) than prescribed by CLIA regulations.
Times have changed . . . the LDT industry has grown in scope and complexity
FDA takes great pains to argue that the LDT industry has changed dramatically in complexity and size and the current enforcement discretion previously applied is no longer tenable. New technologies are being employed and personalized medicine has driven the development of more LDTs that are increasingly complex, and made available on a broader scale. There are also more increasingly higher-risk clinical decisions being made from LDT products. FDA highlights particular concerns about LDTs used for use in determining cancer treatments. In addition, drug-specific LDTs, aka companion diagnostics, have proliferated, providing more "personalized" medicine options.
FDA estimates that 50% of LDTs will require premarket review
According to an exhaustive FDA Regulatory Impact Analysis (RIA) published on September 29, 2023, roughly half of all lab developed tests will be subject to premarket review, including 510(k) and PMA. FDA readily admits that they "do not know the exact number of laboratories or IVDs offered as LDTs that would be affected by this proposed rule" but a 2021 report from the Pew Charitable Trust (based on FDA CLIA database) estimates there are roughly 12,000 CLIA-certified labs performing high complexity testing. Using data from New York State, FDA estimates that roughly 600 to 2,400 labs are certified under CLIA and currently manufacturing IVDs offered as LDTs. To put that in perspective, FDA estimates that these labs are manufacturing an average of 67 tests per lab, or 40,000 to 160,000 tests in total! That does not even account for new tests being introduced.
When will FDA start regulating Lab Developed Tests (LDT)?
FDA anticipates that premarket review will only be required for certain tests (generally those classified into class II or class III) and is expected to impact only 50% of the IVD market. As outlined in the October 2023 proposed rule, FDA has proposed a staged approach to regulating LDTs starting after the final rule is published in the Federal Register. The stages are shown below: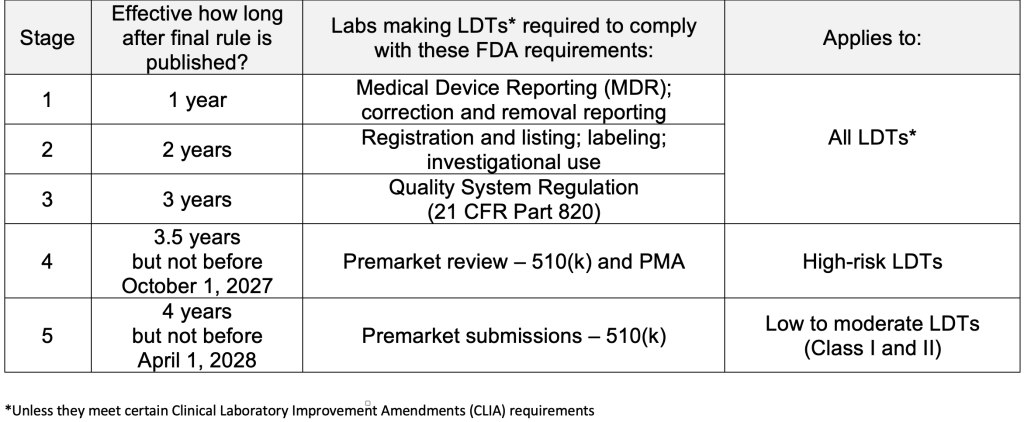 FDA's main gripes about LDTs
So why is FDA now interested in exerting more control over a subset of the IVD industry they have gingerly sidestepped for decades? To paraphrase their own more diplomatic and verbose explanation, here's what bothers them most: FDA is concerned that many LDTs are manufactured with components not legally marketed for clinical use. They believe many are marketed beyond local populations expanding to much larger markets, including outside of the United States. Also, these LDT test and are often used to screen now commonly recognized diseases rather than rare diseases as originally intended. And, they do not like that some tests are manufactured in large volumes or the fact that many LDTs are highly complex which goes beyond the remit of CLIA tests.
FDA is concerned that, contrary to the original intent of the CLIA regulations, many LDTs are being manufactured in a manner more consistent with a commercialized product rather than as small batch, local solutions. Some of the most concerning issues/trends for FDA include:
Components that are not legally marketed for clinical use are being used in the manufacturing process
LDTs are being marketed beyond local populations
Common diseases are screening targets as well as rare conditions
Manufacturing is occurring in high volumes rather than small batches
What it means for CLIA-certified labs
Regardless of whether you think additional oversight is necessary (FDA) or an overreach (industry), most labs developing, selling and using LDTs better get ready to implement a more robust quality management system.
What should you do in the near term? CLIA is more specific than the QSR so many labs are scratching their heads about exactly what they should be doing to prepare. In a nutshell, labs looking to following the QSR in addition to CLIA will have to focus on several key areas including:
Design control
Process and software validation
Post-market monitoring and adverse event reporting (see 21 CFR Part 803, Subpart E)
Document control
Clinical literature
And more
Again, the QSR does not lay out the path for achieving compliance so you would be advised to perform a gap assessment of your CLIA QMS against the QSR. You'd be well advised to hire someone with deep knowledge of the device industry and compliance with 21 CFR Part 820.
Remember, aside from the QMS requirements, FDA is proposing to enforce the same registration and listing requirements imposed upon device companies. This means many moderate and high risk LDTs will have to go through the 510(k) or PMA processes and register their facility. Registration of facilities or labs would result in FDA performing inspections of these facilities.
Be proactive and gain an advantage . . . because most labs won't
There is good reason to start preparing for the inevitable. One reason is practical. The deadline for EU IVDR (2017/746) compliance is looming and it includes a requirement that IVD manufacturers implement a full QMS and gather far more clinical data. Because 80-90% of IVD companies selling in Europe do not currently have QMS certification, there will be a frenzy of IVD manufacturers sucking up a limited supply of medical device/IVD auditing and consulting expertise. Making a small investment in getting a gap assessment done early will allow you to come up with a solid game plan for gathering data and implementing processes that will set the stage for your CLIA-certified lab to comply with the QSR and FDA 510(k) or PMA registration requirements.
Want to learn more?
If you would like to learn more about QMS compliance, consider our QMS overview class. We work with a wide array of IVD manufacturers and can also assist with QMS implementation or a baseline QMS gap assessment.
Get answers right now. Call

US OfficeWashington DC
EU OfficeCork, Ireland